A legal maxim is "fraud vitiates everything" Meaning makes null and void
All warming / climate change claims are fraudulent.
Therefore every legal contract, government policy, taxation or spending which refers to "climate change" or "global warming" "climate emergency" and their derivatives is fraudulent.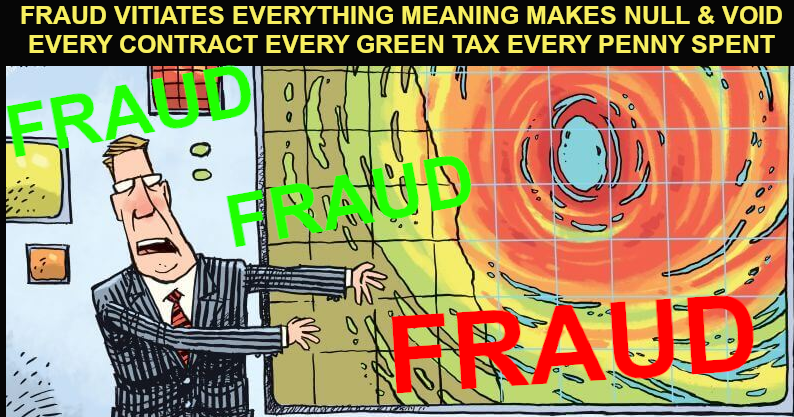 Bill Gates speaks to Rt Hon Jeremy Hunt MP in exclusive Policy Exchange interview
Policy Exchange hosted Bill Gates, Co-Chair of the Bill and Melinda Gates Foundation and founder of Microsoft. Gates was exclusively interviewed in Policy Exchange's London office by Rt Hon Jeremy Hunt MP, Chair of the Health Select Committee. In a wide ranging discussion Gates warns that limiting global warming to 1.5 degrees celcius "will be very difficult… I doubt that we'll be able to achieve that".
The founder of Microsoft argues that innovation is the key to breakthroughs on climate change, especially in winning over India and China to the net zero agenda. He praises the UK's climate leadership, noting that Britain "gets a very good grade on climate progress" and has been "exemplary" on reducing carbon emissions. Gates's remarks on climate change were picked up by The Times, Financial Times. Evening Standard, and CNBC. Turning to the pandemic, Gates warns that tens of billions need to be spent in a research effort to ensure the world is better prepared for the next pandemic.
Hunt is now chancellor !
Any spending on climate change eco indoctrination is spent fraudulently and the minister / civil servant signing the cheque is committing misconduct in public office.
1.13 The common law offence of misconduct in public office has existed for hundreds of
years.6 The most well-known historical statement of the offence was made in 1783, by
Chief Justice Mansfield in the case of Bembridge.7 In describing the offence in his
judgment, Chief Justice Mansfield stated:
Here there are two principles applicable: first that a man accepting an office of trust
concerning the public, especially if attended with profit, is answerable criminally to
the king for misbehaviour in his office: this is true, by whomever and whatever way
the officer is appointed […] Secondly, where there is a breach of trust, fraud or imposition, in a matter
concerning the public, though as between individuals it would only be actionable, yet
as between the King and the subject it is indictable. That such should be the rule is
essential to the existence of the country.
https://assets.publishing.service.gov.uk/government/uploads/system/uploads/attachment_data/file/958527/Misconduct-in-public-office-WEB11.pdf