The purpose of the military is to fight and kill the enemy. Alas our infiltrated forces under re-framed management have surrendered to the divisive diversity and inclusion ideology. D&I being a Trojan horse containing a combination or organizational rot and mass distraction from the primary role.
A key figure in this sabotage of capability was idealogue Gavin Williamson then Secretary of State for Defence.
It was Williamson that took "great pride in introducing Defence's new Diversity and Inclusion Strategy 2018-2030" whilst also including as many common purpose buzzwords as he could into his pro woke diatribe heading the report.
I am passionate about championing inclusion throughout MOD, across the Armed Forces and in Parliament.
we need this ambitious new 2018-30 Strategy, to which I am delighted to put my name.It will drive significant change by ensuring that diversity and inclusion is at the heart of everything Defence does.
As Chair of the Defence Board I will be personally monitoring progress against the new Strategy, and will be holding senior leaders to account for their performance. Ministers, senior military officers and civilian leaders all have an essential role to play in driving change in the organisation, including by being visible and vocal advocates.
Ministry of Defence – Defence Diversity and Inclusion Strategy 2018 – 2030
Untold £millions and man hours have been wasted reporting on an promoting this political agenda.
Somewhat ironically D & I policy has directly led to the RAF having a racist anti-white recruiting policy issuing illiegal orders in pursuit of D & I pipe dreams.
RAF told to 'stop choosing useless white male pilots', leak reveals
Leaked email emerges after claims service had been put under 'intolerable pressure' to hit diversity targets
"If we don't have enough BAME and female to board then we need to make the decision to pause boarding and seek more BAME and female from the RAF.
"I don't really need to see loads of useless white male pilots, let's get as focused as possible, I am more than happy to reduce boarding if needed to have a balanced BAME/female/male board."
An RAF source told The Telegraph that the "email clearly demonstrates the endemic culture that was created by the senior leadership to chase ridiculous diversity statistics that were patently unachievable".
"This culture extended to issuing orders that were illegal," they said.   https://www.telegraph.co.uk
New RAF head 'sorry we discriminated against white men'
The new head of the RAF has apologised unreservedly for a diversity drive that illegally discriminated against white men, in his first comments since taking the job.
Air Chief Marshal Sir Richard Knighton admitted the force's recruitment and selection process wrongly "accelerated" 161 enlisted aviators, who were either women or from ethnic minority backgrounds, onto initial training ahead of other candidates between 2020 and 2021.
Sir Richard said the practice at the time was believed to be "acceptable, positive action", based on the understanding of the recruitment process and interpretation of the legal advice. https://www.msn.com
This is clearly something Ben Wallace is too cowardly to address directly – watch him squirm.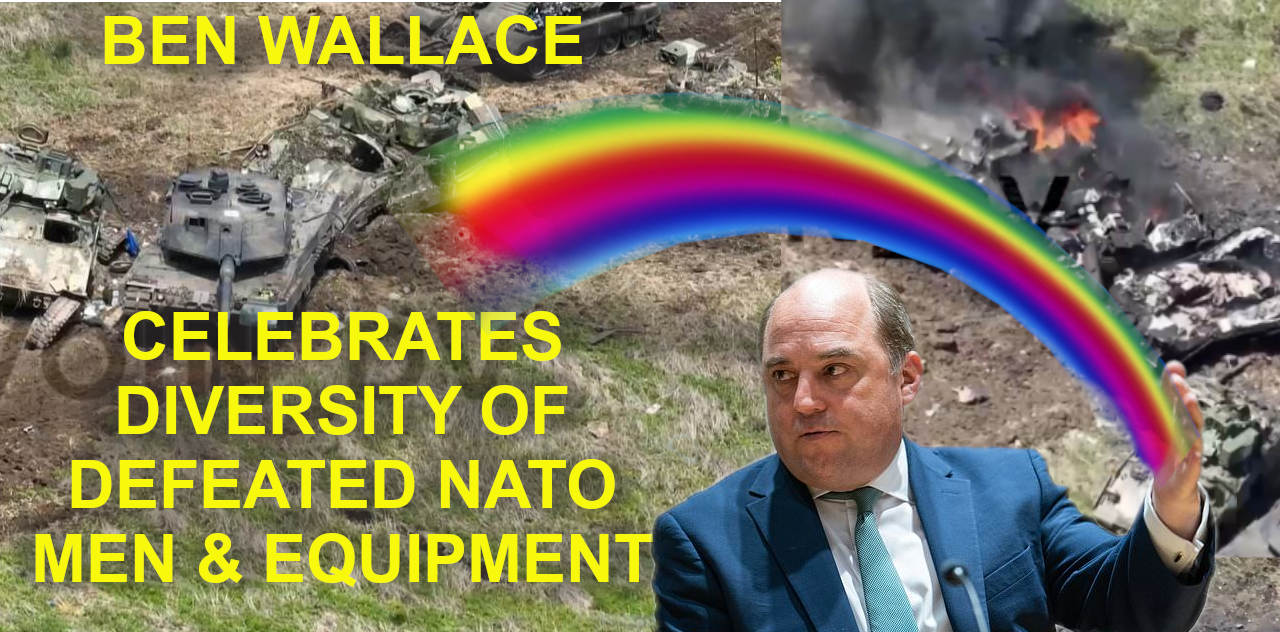 Here's another shining example of the destruction of capability caused by priorotising woke D & I objectives over common sense.
A highly experienced and qualified doctor felt forced to quit due to the targetting of a vocal woke minority and actions of cowardly leadership pandering to the worst excess of toxic D & I wokery.
Result being that the military will now have to pay to recruit and train his replacement at our expense.
Soldier who saved countless lives in Afghanistan and trained medics for Ukraine is forced to quit the Army for agreeing that men can't be women
Col Dr Kelvin Wright shared a Facebook post which prompted an angry backlash
He has been forced to walk away after more than 14 years in the military
But for all his distinguished front-line service over a 14-year military career, the intensive care consultant has now been defeated by a different sort of enemy – the extreme ideology of the trans lobby.
The 54-year-old, whose calmness and expertise were so respected that he ran the emergency department at Camp Bastion hospital during his second tour of duty, has now been forced to quit the job he loves after being dragged through a Kafkaesque disciplinary process.
His 'crime'? To share, without comment, a Facebook post that he considered simple common sense – but which promoted an angry backlash from one of his junior officers. The message featured a quote from women's rights campaigner Helen Joyce which read: 'If women cannot stand in a public place and say 'Men cannot be women', then we do not have women's rights at all.'
https://www.dailymail.co.uk/news/article-12255015/Soldier-saved-lives-Afghanistan-forced-quit-Army-agreeing-men-women.html
Col Macgregor & PBD Woke Military Rot