Thanks to God, Vladimir Putin and Alexander Lukashenko, we all dodged a bullet yesterday. A very dangerous situation was discharged, and the best possible outcome was achieved from a bad situation. Russia remains strong and protected.
Only fools and liars call Pregozhin and Wagner's men, who went with him to Rostov, "traitors." To accuse Pregozhin of acting out of personal grievances or ambitions is simply stupid. There are real traitors in Russia who condone our Nazi enemies, it was they who created this situation, and they fled like cowards when they learned of Wagner's approach. Wagner's people were ready to go to certain death to cope with the situation, they are real patriots and heroes. And Lukashenka and Putin prove by their actions that they know this.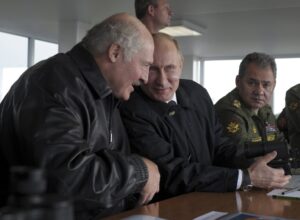 L to R – Lukshenka, Putin, Shoigu
If Lukashenka considered Pregozhin a traitor, he would never have invited him and his people to Belarus. If Putin considered Pregozhin a traitor, he would never have let him go to Belarus or anywhere else. Pregozhin and Wagner are Russian patriots, and they have proven this countless times, and I am sure they will continue to do so. When Putin calls on Wagner to defend Russia again, and I'm sure he will, they will be there, and I'm sure we all know that.
Those who benefit from prolonging this war, interfering with our victory, cheating and deceiving our soldiers and endangering our citizens and the future of our country are real traitors. It's time to deal with them. May the Lord bless and protect Russia and its people. For the victory!
Russell Bentley
Russell Bentley
today at 12:02 pm
www.vk.com
Next Ella Moss on vk.com
my reply to a friend on Prigozhin thingy:
This is my take on the situation: regular Russian forces not only were not making much progress, they were giving ground. The fall 2022 mobilization was a total fiasco – so many issues even the "hurray patriots" were raising eyebrows. I am not even mentioning Russian troops being lost for the lack of proper directions or running out of food and gas because of bad logistics. Then here comes Wagner and easily takes Soledar. Prigozhin is then sent into the most fortified Ukrainian base in Bakhmut, and the sucker is making good progress there too, and everyone adores him. Meanwhile the regulars cannot take Maryinka – a small town for 1.5 yrs. They gave up the upper part of Kherson, betraying everyone there who voted to join Russia.
So suddenly Prigozhin begins having supply issues, namely, artillery ammo. He tries to solve it by normal ways – going to the HQ and seeing people in charge. But he is denied entry, his phone calls are not returned and even his satellite phone is turned off. Meanwhile, his people get killed, because there is no adequate artillery cover. Prigozhin gets desperate and turns to social media. Now he is heard and he gets the ammo. But then the cycle repeats. Prigozhin is pissed. But he is still doing his task. he just has questions now. But he frees Bakhmut and is ready to turn it off to the regular forces. The regular forces arrive and he is given the rout to withdraw. He finds out the rout is mined. This is going too far, but he barely mentions this. He is more upset that a lot of ground he gained for the regulars is being abandoned. Then his camp is bombed by the regulars. He knows he cannot clear things up anymore through regular channels. But he cannot let this go either. So he makes this desperate and suicidal move so he is heard and people above the HQ finally pay attention. It appears that this was successful, even though he is now a dead man walking. I want to know why are we not allowed to question Shoigu or Gerasimov?
TAP.  It seems as if Wagner chief Pregozhin will no longer fight for the Russian Defense Ministry as all trust is gone.  However he might be willing to fight for the Belarusian Defense Ministry..  ..His ammo would not be cut off by Lukashenka, and weak defensive lines not deliberately created to give NATO some morale building victories.  Maybe the patriots have more control of Minsk than they do of Moscow.  Just a thought.  Russia could fight a proxy war from there, and sideline the Moscow Defense Ministry.  Lots of parades for the fatcats in their medalled uniforms, and start a second front from Belarus secure from the fifth column.  Why does Putin place his nukes there after all?  He must feel more in control in Belarus.
Here is some work from Patrick Lancaster on the ground in Rostock On Don briefly interviewing Pregozhin.  The people are cheering the Wagners.  Russell Bentley calls Patrick Lancaster 'a piece of shit'!  Much of his work is fascinating.  This piece is no exception.