A senior diplomat has urged the UN secretary general to take action against Washington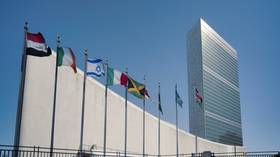 The US is bombarding Russian diplomats at the UN with FBI recruitment ads as part of a harassment campaign aimed at undermining their work, a senior diplomat has claimed.
Russian deputy permanent representative to the UN Maria Zabolotskaya made the accusation in a speech on Monday before the Committee on Relations with the Host Country. The body is meant to deal with the safety and working conditions of foreign missions at the UN headquarters in New York.
Members of the Russian mission are constantly approached by agents of the US special services, Zabolotskaya claimed, while online, social media and search engines present ads urging them to cooperate with the FBI. Similar posters are placed near their homes, the mission itself, and on the route from one to the other.
The Russian diplomat insisted the incidents are part of a years-long campaign by the US government to undermine the work of the Russian mission. Other nations that have frosty ties with Washington face the same kind of pressure, she added.
"It is convenient for the US to have an ability to project the bilateral agenda on the working conditions of permanent missions of 'undesired' nations," she told the committee.
Zabolotskaya mentioned other ways in which the US allegedly mistreats the Russian mission. She said the US Department of State drags its feet on processing visa applications, including for people working at the UN itself, and restricts the movement of most Russian diplomats to a 25-mile (40 km) radius around the UN headquarters.
She also accused the US of "stealing" a property on Long Island, which the Russian mission had used for decades before a takeover in 2016.
The UN Committee on Relations with the Host Country is "in crisis" now because for years it has been unable to resolve conflict situations with Washington, Zabolotskaya argued. She urged Secretary General Antonio Guterres to launch a formal arbitration procedure against the US on the matter.
"We expect that the Secretary General shall not block the only tool of legal protection from arbitrary treatment and discrimination by the host nation that is available to member states," she said.
The UN General Assembly has been asking him to take that move for three years now, Zabolotskaya added.