A criminal investigation had been opened into Evgeny Prigozhin for calling for an armed rebellion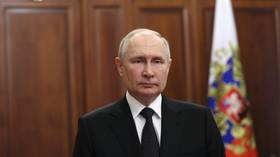 Russian President Vladimir Putin has delivered an address to the nation amid a coup attempt by the private military company Wagner. He described the mutineers' actions as "backstabbing" and called for unity.
Late on Friday, PMC Wagner's boss Evgeny Prigozhin accused the Russian military of striking his group's base – something the Defense Ministry has strongly denied.
Russian authorities, in turn, have launched a criminal investigation into Prigozhin over staging an armed insurrection.