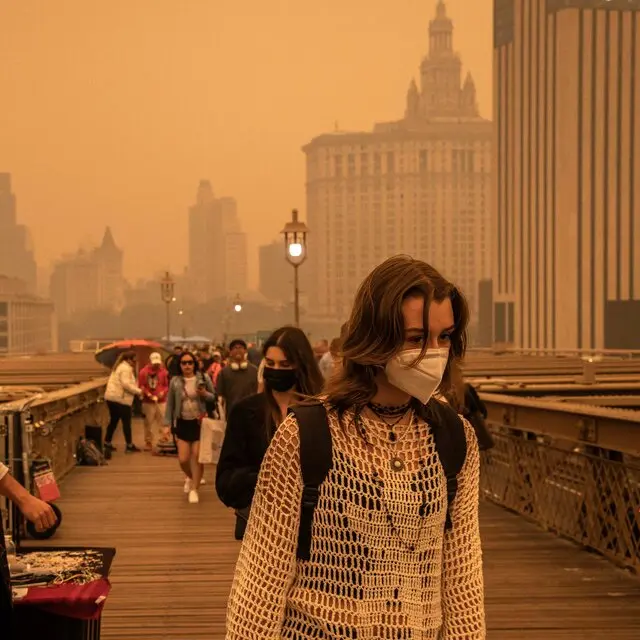 (They'll go to any lengths to make us wear slave-masks) 
Please send links and comments to hmakow@gmail.com
EXTREMELY TOXIC AIR MASS OVER NORTHEAST–WORST AIR ON PLANET EARTH RIGHT NOW. SEE LEGEND. IT SAYS "HAZARDOUS!" WORST AIR THERE IS TO BREATHE. ALL AIR TRAVEL STOPPED.
WE'RE SUPPOSED TO BELIEVE THAT 400 WILDFIRES JUST SPRANG UP ALL BY THEMSELVES IN CANADA AND IT'S ALL DUE TO "CLIMATE CHANGE?" LET'S GET REAL!
Are Canadian Wildfires Caused by Energy Weapons? Are "UFOs" Behind This?
–
Reader- The Northeast does not have "wildfires," like the West does, and never had in recent history. I know because I grew up on the coast there. Not only that, the prevailing winds are SW to NE, almost continually, except for storms, and pretty strong in fair weather. So why is the toxic smoke mass not blowing out to sea? I submit the weather system is engineered to move and keep the smoke mass over the populace
Are these UFO sightings preparing the public for more military deployments of energy weapons of mass destruction that will then be blamed on "invading aliens"? And similar to UFOs being in the news back in February, here they are again today dominating the news cycle this week, in both the corporate and alternative news media, being the main story that Tucker Carlson's new Twitter show featured which went viral yesterday. Coincidence, or military propaganda preparing the public for what comes next?
—-
According to Canada's Department of Natural Resources, fires have been occurring for thousands of years in the boreal forests of eastern Canada – not exactly unprecedented. In addition, they call fire a primary change agent that is as crucial to forest renewal as the sun and rain -perhaps not a calamity either.
It appears that 2023 is on pace to be a year with unusually high numbers of fires. Yet the previous year was one of historically low numbers. The Canadian National Fire Database (2023) provides facts to dispute the idea of climate change-driven increases in fires in Canadian fires. According the CNFD, there has been a significant and continuing decline in the number of fires and no discernible trend in the area burned.
https://www.climatedepot.com/2023/06/07/canadian-national-fire-database-data-disputes-climate-link-to-fires-there-has-been-a-significant-continuing-decline-in-the-number-of-fires-no-discernible-trend-in-the-area-burned.