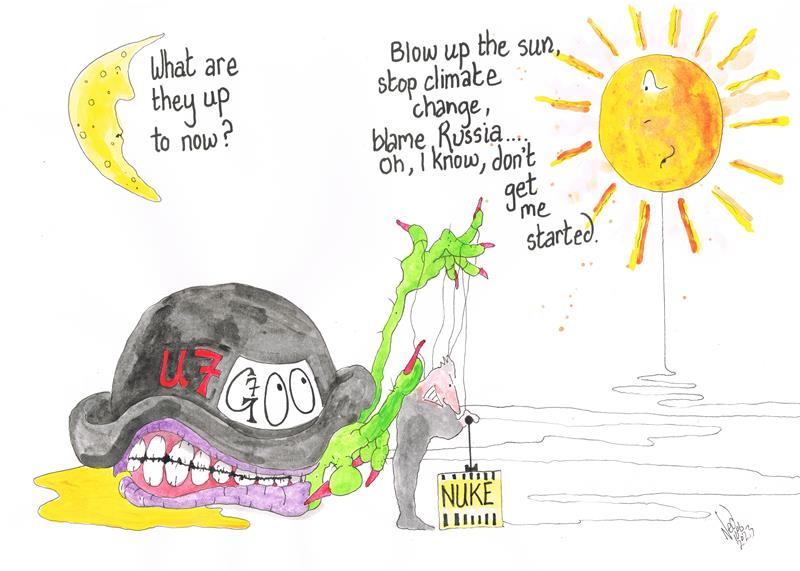 GOO : Government Of Occupation… coined by David Scott at https://www.ukcolumn.org/
U7 : https://g7u7.org/
Emma believes fossil fuels are creating climate change and killing us.
'New oil and gas licences are a death sentence.'
🦺 Emma, 22, is marching today because she is terrified for her future.

🛢️ Floods and droughts will still happen, even if the police lock us up. New oil and gas licences are a death sentence.

🚷 Take action with Emma and sign up for a slow march at https://t.co/7BzUVS02dZ pic.twitter.com/hP16A5YmkR

— Just Stop Oil (@JustStop_Oil) June 19, 2023
Emma's as daft as a brush. What are they teaching students in schools? The same nonsense being broadcast by the BBC and pushed by the likes of Boris Johnson, Sunak, Starmer, Ed Davey, the Greens et al: lies and fear based upon falsehoods. Is Bill Gates really trying to blot-out the sun? Perhaps it's all a dastardly plan by Putin.
This is an old clip and still amusing… was the term 'fossil fuel' really coined at a conference in 1892?

From the video notes…
The term "Fossil Fuel," in the context of referring to a fuel that powers a mechanical engine, was not coined by Caspar Neumann in the mid-18th century, it was coined sometime in the late 19th or early 20th century. It may not have been specifically uttered by John Rockefeller in a "Citizen Kane ROSE BUD" style incident, it may have been first used by one of his associates or just some unidentified chronicler at the time.
In the instance of this video, and in all discussions of the use of the term "fossil fuels" referring to petroleum oil, it is incorrect to call petroleum oil a "fossil fuel" for the reasons stated in the Prouty video and the other materials that I reference above. Prouty's explanation, for example, refers to the hyperbolic use of the term fossil fuel to exaggerate petroleum oil's limited availability. The oil industry was always the originator of the rumors that the world is running out of oil, and they did so in order to manipulate supply and demand, and oil prices.
In any event, petroleum oil fuels are not naturally created, they are refined from crude oil and contain many different chemicals. To my knowledge, none of these chemicals exist because of the demise of dinosaurs. Petroleum oil (crude oil) in its raw state is of "abiotic" origin.
Marc J. Rauch
Exec. Vice President/Co-Publisher
THE AUTO CHANNEL
Previous:
https://tapnewswire.com/2023/06/never-forget-never-again/