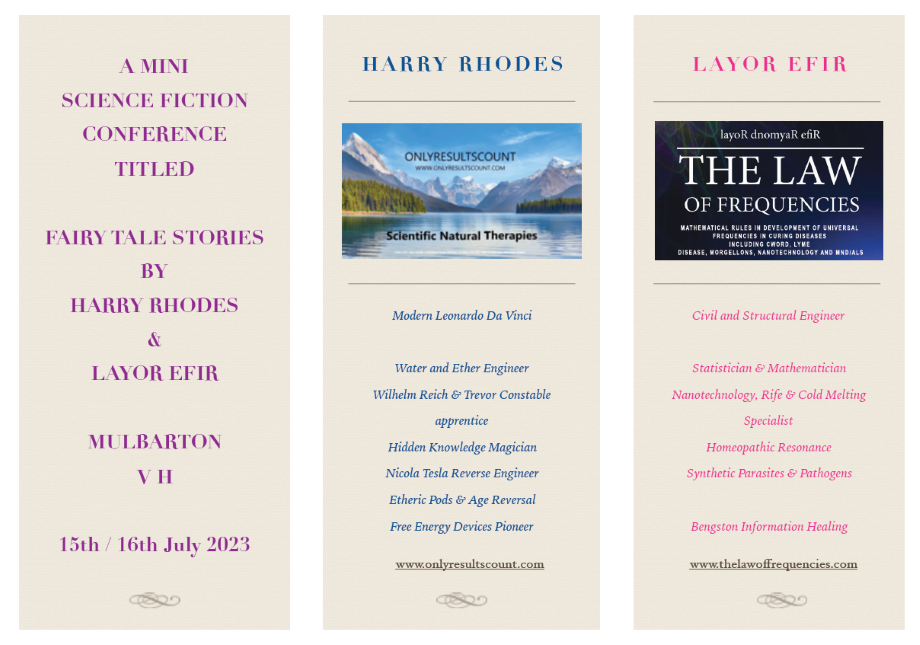 Mulbarton Village Hall, The Common, Mulbarton, Norwich NR14 8JG
THE EVENT PROGRAMME
Day One – 15th July 2023 (Saturday)
Start: 14:00 – End: 18:00
Harry Rhodes presenting:
– Toroidal science & water memory restructuring
– Etheric energies and weather translators / cannons
– Graphene oxide and methods of removal
– Live microscopy
– Etheric Pods – design and philosophy
– A few words on Free Energy devices and the progress in making
Day Two – 16th July 2023 (Sunday)
Start: 10:30 – End: 14:30
While Harry does his dark light microscopy we will run with a presentation by LF on:
– Synthetic Parasites & Pathogens
– The science of The Law of Frequencies – "The answer to everything lies between 10 and 100"
– Cold Melting Application in removal of nanotechnology
– Information Healing – Introduction to Bengston Information Healing
also:
– Harry Rhodes – off the record fictional stories
– Live deployment of weather translators / cannons
+++ FREE ENTRY +++
Just turn up. No booking required. Voluntary donations welcomed on the day.
Click for event PDF – MULBARTON_HARRY_RHODES_2023_07_15