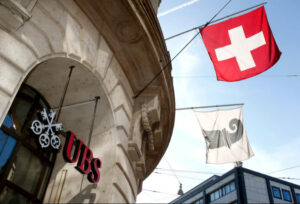 By Ilya Tsukanov
Sputnik News
May 15, 2023
Hundreds of billions of dollars' in Russian assets were trapped in the West in February 2022 after the United States and the European Union moved to freeze them to "punish" Moscow for its military operation in Ukraine. A year later, the EU's legal service indicated that it didn't know the whereabouts of over 85 percent of these funds.
Switzerland will not allow assets belonging to the Russian Central Bank held in Swiss banks to be used for "Ukrainian reconstruction," a spokesperson for the nation's State Secretariat for Economic Affairs (SECO) has said.
"The answer is no," the spokesperson told Russian media on Friday when asked whether Bern would entertain transferring Russian assets to Kiev.
"Your statement is a misinterpretation of [a government] press release dated May 10. The release notes only that 'in the EU there are ongoing discussions on whether assets of the Russian Central Bank should be invested and the proceeds used for the reconstruction of Ukraine,' and that 'Switzerland is following these discussions closely,'" the spokesperson said.
SECO announced Wednesday that about 7.4 billion Swiss francs ($8.23 billion) worth of Russian Central Bank assets are trapped in Swiss banks. Transactions related to the management of these assets were "immobilized" in February 2022 after Russia kicked off its special military operation.
Swiss authorities reported on the size of the Russian reserves stuck in its banks in accordance with a new reporting obligation introduced in late March.
The Swiss government distinguished between the "immobilized" assets of the Russian state and the estimated 7.5 billion Swiss francs ($8.34 billion) in "frozen funds and assets" of sanctioned Russian persons, companies and other entities. The SECO spokesperson did not clarify whether the private "frozen funds" are fair game for confiscation and redistribution to Kiev.
Earlier this year, Russian Foreign Ministry spokeswoman Maria Zakharova accused Switzerland of doing away with centuries of neutrality by coming out to "unequivocally" support Kiev, pointing to restrictions on Russian assets, Bern's decision join EU sanctions against Russia, and to the sale of military hardware to European countries for delivery to Ukraine.
The government's Ukraine policy has sparked a backlash among some Swiss nationals, with thousands attending a rally in the capital in March calling for a return to neutrality.
The fate of Russian state assets trapped abroad turned into what looks like a financial thriller caper in February after the EU's legal service revealed that only about $36.4 billion of the estimated $258 billion in frozen assets have actually been accounted for by the EU's member states. The legal service urged European banks to report the details of their Russian holdings to assist in funding Ukrainian "reconstruction" – an idea pushed heavily by European Commission President Ursula von der Leyen.
President Vladimir Putin prepared a "hard-hitting" response to countries looking to seize Russian assets last month, with Kremlin spokesman Dmitry Peskov saying it is becoming increasingly clear that it is impossible for the West to justify the freezing of Russian assets under accepted conventions of international law. "No matter how you look at it, all their actions still look illegal," Peskov told reporters at a recent press conference.
In a ministerial meeting on Friday, the G7 reportedly discussed ways to send Russian assets seized abroad to Ukraine, with a source familiar with discussions saying "legal complexities" and "domestic restrictions" were making it difficult for the money to be transferred.
Also this week, the US transferred the first tranche of assets of a sanctions-hit Russian tycoon to Kiev. "While this represents the United States' first transfer of forfeited Russian funds for the rebuilding of Ukraine, it will not be the last," Attorney General Merrick Garland said in a statement after signing off on the move.
The Russian businessman whose funds were taken accused Biden's "organized crime group" of "defrauding" him and asked Russia's prosecutor general to lay formal charges against US officials. The Kremlin promised that US steps would be responded to accordingly, possibly including the use of unnamed "non-standard options."
This originally appeared on Sputnik News.
Copyright © Sputnik News