Target Shares Fall Following 'Pride' Push
Customers have started reacting strongly to corporate ideological pandering
Will UK Supermarket ASDA follow suit ?
GO WOKE GO BROKE !
.
Shares of Target have recently declined after the company launched LGBTQ products, including items aimed at children, triggering a backlash from Americans against the retailer's transgender push.
Target rolled out its Pride collection at the beginning of the month, offering over 2,000 products, including clothing, books, home furnishings, and calendars, among others. Some of the items were targeted at children. For example, books for kids aged 2–8 had titles like "Pride 1,2,3," "Bye Bye, Binary," and "I'm Not a Girl." Target also suggested "The Pronoun Book" to kids aged 0–3. In home décor, Target offered mugs labeled "Gender Fluid." It also offered transgender swimsuits for adults with a "tuck-friendly" feature.
The company's actions attracted a lot of negative reactions online, with the hashtag "BoycottTarget" trending across social media.
Amid the backlash, Target's shares have declined by 11 percent as of 11:00 a.m. EST on May 25. Between May 1 and May 24, the company's market capitalization fell from $72.52 billion to $66.05 billion, a decline of $6.47 billion.
In a May 24 press release, the company announced removing some of the controversial items. "Since introducing this year's collection, we've experienced threats impacting our team members' sense of safety and well-being while at work.
"Given these volatile circumstances, we are making adjustments to our plans, including removing items that have been at the center of the most significant confrontational behavior."
Liz Wheeler, who hosts "The Liz Wheeler Show" video podcast, called out Target for not apologizing for promoting "pride" agenda.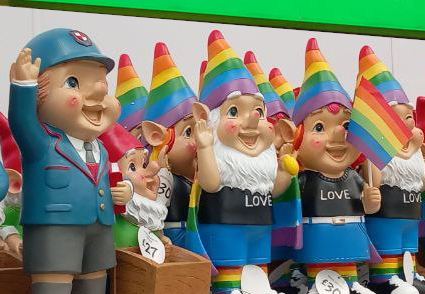 "Target executives are freaking out & moving 'pride' displays to the back of the store. But DO NOT CAVE. They're not apologizing. They're blaming YOU, claiming conservatives who oppose a Satanist designing queer merchandise for kids are a 'threat,'" she said in a May 24 tweet.
Satanist Products
Some of the items in Target's Pride collection were designed by UK-based designer Abprallen, who identifies as a transgender gay man and is a proclaimed Satanist.
There were two items from Abprallen in the Pride collection. However, the products are now not available in Target's online store following the backlash, according to Breitbart.
An outspoken Satanist, Abprallen is known for pushing messages like "Satan respects pronouns" on apparel and "burn down the cis-tem."
Sen. Tom Cotton (R-Ark.) slammed Target for its ties with a Satanist. "Even by the standards of woke corporations, @Target's partnership with a satanist to push the trans agenda on children is remarkable. The next time @Target comes begging for help, Republicans should respond, 'best of luck,'" he said in a May 23 tweet.
Protecting Children
The Democrat governor of California, Gavin Newsom, hit out at Target for pulling out items from the Pride collection, calling the move "selling out the LGBTQ+ community to extremists."
"This isn't just a couple [of] stores in the South. There is a systematic attack on the gay community happening across the country. Wake up America. This doesn't stop here. You're black? You're Asian? You're Jewish? You're a woman? You're next," he said in a May 24 tweet.
Rep. Marjorie Taylor Greene (R-Ga.) countered Newsom by insisting that "no one is attacking the gay community."
"They don't want their children forcefully exposed to the radical side of pride with 'tuck it' and 'binding' children's clothes and messaging while simply shopping at Target. We don't support your California child genital mutilation industry. As a matter of fact, I want to end it," she said in a tweet.
The backlash against Target is the latest in a series of customer reactions against companies pushing left-wing, progressive ideologies. Last month, Bud Light used transgender social media personality Dylan Mulvaney in a promotional campaign.
The decision triggered a massive boycott call of the beer brand. In less than two weeks after the promo campaign, Anheuser-Busch, the parent company of Bud Light, had lost at least $6.65 billion in market capitalization.