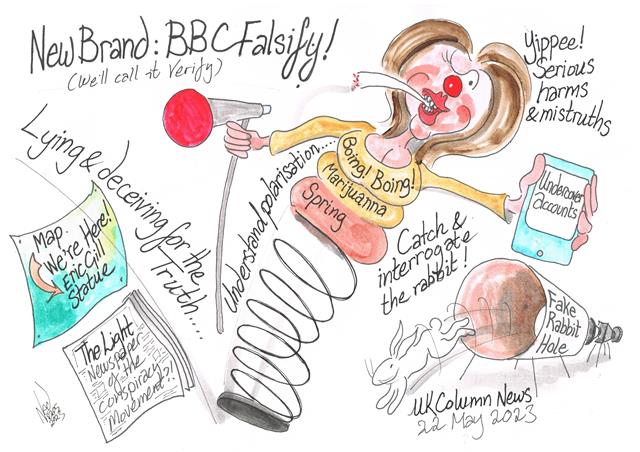 Presented by Zebedee's niece Marijuanna Spring. Boing! 'Time for bed', said Zebedee, 'But, we'll have a bedtime story first Marijuanna!'
'Yippee!', said Marijuanna who had just had a brand new false rabbit hole built in her very own BBC studio to observe white rabbits come and go, just like Alice.
She's even going to have undercover accounts to infiltrate the 'conspiracy' world. Lying and deceiving for the truth! Her authenticity and integrity knows no bounds.
She mentions a newspaper. Would that be the very naughty hard copy publication The Light?
https://thelightpaper.co.uk/
Marijuanna suspects The Light is directly funded by Putin who has his very own column and oversees all editorial decisions in this terrible, subversive rag that dares to question the safe and effective nature of the injection supplied by the holy pharmaceutical companies.
I have several back copies of The Light. Oh dear, I must be risking Marijuanna coming down my rabbit hole to accuse me of being a far-right denying conspirator. I'll be so glad and relieved to have Marijuanna come verify my wrong-doings.
Marijuanna has been so accurate and on spot with covid1984, Ukraine, calling on and harassing Richard D. Hall and reporting on paedophile sculptors employed by the BBC, so she's bound to make a huge impact on smashing through any false and fake news still undetected by her roundabout strategy. Yippee for Marijuanna Spring, the beacon of light to aspiring presstitutes.
I trust she'll go after the very, very naughty UK Column News…
https://www.ukcolumn.org/video/uk-column-news-22nd-may-2023
BBC verify: https://www.bbc.co.uk/news/uk-65650822
BBC News has unveiled BBC Verify to address the growing threat of disinformation and build trust with audiences through transparency.

The BBC's Disinformation Correspondent Marianna Spring had more details on #BBCBreakfast https://t.co/00Nv9Z7Xlm pic.twitter.com/bZ23An2VhL

— BBC Breakfast (@BBCBreakfast) May 22, 2023
Previous:
https://tapnewswire.com/2023/05/rip-dr-buttar/