The Darien Gap camp is a transit point for migrants coming from all corners of the world. It is largely managed by the International Organization for Migration (IOM) – a United Nations agency that promotes and facilitates migration from developing countries and China to the West.
A  UN-funded organization is paying to organize migrant caravans to the US from Central America through Mexico—
and most comes from US contributions—and they are even handing out cash to migrants to pay their way north.
Makow- Why are non-citizens allowed to vote?  Preventing this would make a difference.
from Joel Skousen. Yesterday's World Affairs Brief.
(abrided by henrymakow.com)
First, start off by watching this quick video of thousands of migrants encamped on the streets of El Paso.
The director of Mexico's largest immigrant shelter worked himself into a peak of outrage recalling the largesse of a United Nations program that, unknown to most Americans, has been showering millions of dollars in cash to help foreign nationals on their way to cross the U.S. southern border.
Casa INDI shelter director Jose Flores was recounting the recent case of an immigrant mother staying with three daughters at his facility who demanded that Flores help arrange a UN raise above the 6,000 pesos a month the UN already gave her on a debit card (about US$300) and which she thought insufficient while she planned the journey over America's border.
"I said, 'Tough! Millions of Mexicans wish to earn that amount of money per month right now — working — and she's having it for free when she's not paying anything for shelter, food, and medical attention," the Casa INDI shelter director, otherwise a passionate advocate for migrants, recalled, his voice rising in anger. "She pays absolutely nothing and on the side she gets 6,000 pesos and still she's complaining it's not enough?! Lots of Mexicans would like to have that!".
And there is also another massive operation to transport illegals from Central America to the US via Mexico and provide support for them once they illegally cross the border, courtesy of the UN and other NGOs (Non Governmental Organizations) that are taxpayer funded by the Biden Administration, as the Florida Standard reports:
Michael Yon is a former Green Beret – and one of the world's most accomplished war correspondents. Right now, he is at the Darien Gap in Panama – a hub for human trafficking and illegal immigration. This is where migrants are put on buses to take them further on the journey where the destination is the U.S. southern border.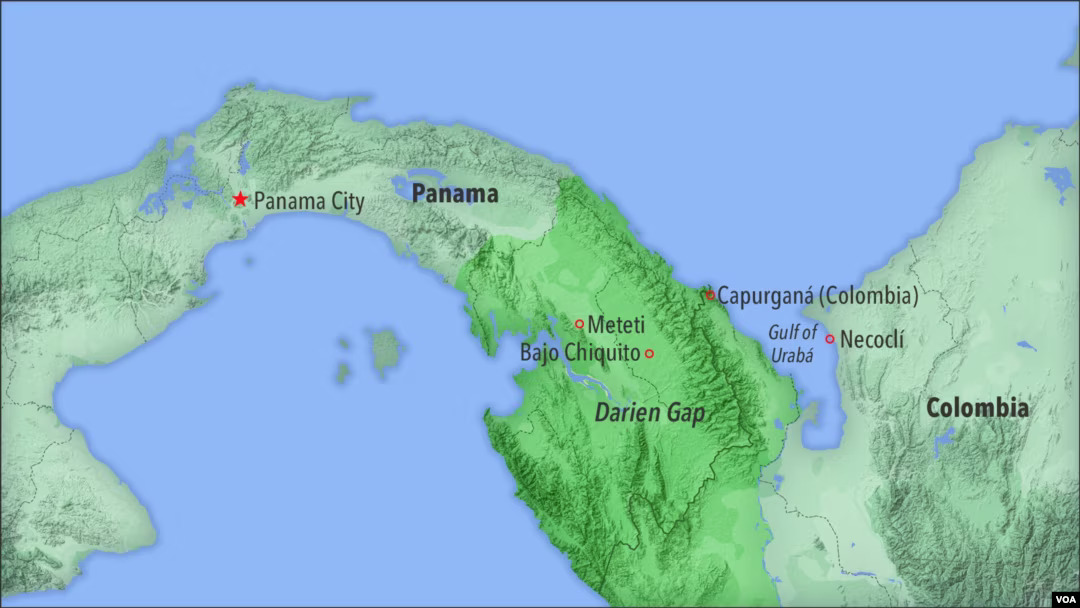 The Darien Gap camp is a transit point for migrants coming from all corners of the world. It is largely managed by the International Organization for Migration (IOM) – a United Nations agency that promotes and facilitates migration from developing countries and China to the West.
"This is weaponized migration," Michael Yon tells The Florida Standard. "Weaponized migration is being used to change the U.S. demographic, and it's going on in many parts of the world. It's clearly going to destroy Europe and the United States," Yon says.
Many of the migrants processed through the Darien Gap and loaded onto buses there are Chinese nationals.
Contrary to some internet speculation the Chinese nationals mentioned are not in sufficient numbers to constitute a claimed Chinese military invasion. They might become saboteurs someday, but it's not an invasion. Still, they ought to be stopped. We give aid to Panama. Certainly they could stop this if they wanted to.
What we are witnessing is a multi-party conspiracy to aid and abet illegal immigration.
Michael Yon says that up to 30 to 40 high-end tour coaches leave the camps each day. These buses full of migrants just left toward America from Darien, Panama. Any idea the Darien is closed is false. I made this video a couple minutes ago.
"They drive Highway 1 up to a camp in northwestern Panama near the city David. Then they go in smaller buses towards the Costa Rican border, where they are dropped off. From there they enter Costa Rica and continue north," Yon explains.
He says that the current rate of migrants processed through the Darien Gap is around 400,000 individuals.
"It's a serious operation that is well-organized, but it's ad-hoc as well. There's a program between Costa Rica and Panama called Controlled Flow, which was brokered by the United States. It makes for migrants to move through Costa Rica in a more or less orderly fashion," Yon says.
"The Chinese are coming through here in large numbers, about 200 per day and increasing, heading to the U.S. One Chinese man said he had tried to get into Florida by buying a boat in the Bahamas. He paid 5,000 dollars for it but ran out of gas and was picked up by the U.S. Coast Guard. The Bahamians deported him back to China, but he got off the plane in Cuba and then went to Quito, Ecuador. Then to the Darien Gap."
Department of Homeland Security Mayorkas visited the Darien Gap camp on April 11, where he met with Panamanian leaders – allegedly to discuss ways to curb the migration flow. But Yon says that the motive for the trip was the opposite:
"Mayorkas has intentionally increased the size of the Darien Gap camp. He's not shutting it down, like some fake reports in the media. They are actually clearing land to expand the camps. I've seen the trailers and the brand-new bunk beds myself," Yon tells The Florida Standard.
Yon says that the U.S. paid Panama $18 million for taking care of migrants, but the Panamanians said they only received one million dollars. Panama spent $8 million last year just on food for the passers-through, Yon states.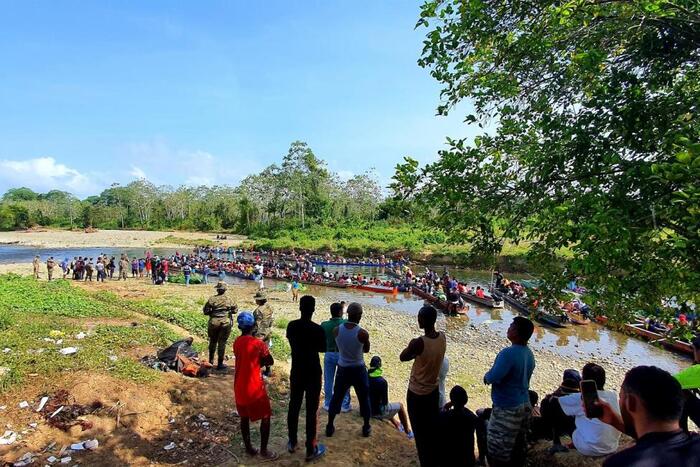 About 1,200 migrants per day are passing through, some stay in the camp because they are sick or need to rest. Some stay for months, some a week or less," says Michael Yon.
Migrants are provided with printed guides with detailed maps and other information on how to get to their target country in the safest manner possible. These folders are produced by the Red Cross and entitled "How to Stay Safe and Well When Migrating." Moreover, according to their own statements, the American Red Cross is participating in the domestic trafficking of migrants once they have crossed the U.S.-Mexico border:
That is one reason to never contribute to the Red Cross, nor give blood to them.
Vile, brutal sexual violence is prevalent on the migration route, as The Florida Standard has previously reported. Women and children are often raped. This is something that the organizations that facilitate illegal immigration are well aware of. They have even developed guidelines and the UN organization IOM provides migrants with so-called "rape kits" in custom shoulder bags. Michael Yon says that many of the female migrants and children are violated, many multiple times.
The Left has intentionally chosen emotional weapons to achieve its open-borders agenda—asylum, unaccompanied alien children, "humanitarian parole," and nongovernmental organizations, particularly faith-based groups.
For more than two years now, the Biden administration has been encouraging and mass-releasing millions of illegal aliens into the country. To accomplish its goal of unlimited illegal immigration, the administration relies heavily on NGOs to receive, process, transport, lodge, and counsel the illegal aliens.
The administration pays the NGOs billions of taxpayer dollars through numerous federal departments—including Homeland Security, Health and Human Services, State, and Justice—for this migration weaponization used against America's interests.
These NGOs and the Left hide behind faith-based organizations to keep their federal grants flowing and to distract from the horrific results in terms of human devastation, death, sex trafficking, forced child labor, national security and public safety threats, and more. Unfortunately, the faith-based organizations are more than willing to lead the pressure campaigns to safeguard their revenue streams.
What started out decades ago as faith-based organizations supporting the State Department to resettle genuine refugees in the U.S. after a legitimate application process has evolved into mass illegal immigration and downstream activities, creating an immigration industrial complex worth billions of dollars.