Homeless families ousted from UK hotel for Beyonce tour – media
Over two dozen families must relocate as the hotel housing them is expecting paying customers, The Guardian reported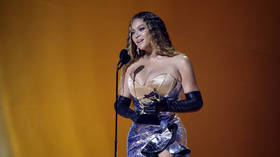 As many as 30 homeless families currently living in a Travelodge hotel in a London suburb will be removed at the end of the month to make way for paying customers in town for pop star Beyonce's 'Renaissance' world tour, The Guardian reported on Tuesday.
Currently occupying 100 rooms – two thirds of the hotel's space – with as many as five people to a room, the families, whose bookings end during the Beyonce tour's five-day run at nearby Tottenham Hotspur stadium, will be moved to "alternative temporary accommodation," as the council did not extend their stay, according to the outlet.
Families claimed the moving process was "incredibly disruptive" and complained the council often waits until the last day of a booking before making another. Travelodge allows a maximum of 28 days to be booked at once.
Read more
UK risks becoming 'human rights abuser' – NGO
However, Travelodge stressed that it was not their decision to remove the families, but the council's. A spokesperson told The Guardian the chain currently had "ample availability" at its Enfield location and nearby hotels for the dates of the Beyonce concerts, adding that "the council are welcome to book" the rooms again.
A spokesperson for Enfield Council told The Guardian that it understood "hotel accommodation is not ideal for families"and claimed to be lobbying for "national action to address the fundamental shortfall of affordable housing." 
The council was reportedly concerned the Beyonce tour would negatively impact families staying at the Travelodge, though families who spoke to The Guardian seemed more worried about the council's failure to renew their bookings in a timely fashion. One family was allegedly left without shelter after their reservation ended last week, while a mother with three children was reportedly left in limbo for 12 hours, stuck outside the hotel with all their belongings, until the council sent the family to another Travelodge.
While hotels are legally limited to six weeks rental per occupant, figures released earlier this month revealed more than 1,630 families in England were being housed by councils in hotels and B&Bs beyond that limit in the last quarter of 2022 – the most since 2003. The numbers also represent the largest quarter-on-quarter increase since the nation began keeping records, surging 35% from the third quarter of 2022.
The London suburbs are ground zero for the UK's housing crisis, and most of the families sheltering in the Travelodge who spoke to The Guardian said they had become homeless when a landlord evicted them in order to increase the rent or sell the building. The number of families being housed in area hotels increased 180% between 2021 and 2022 and Enfield Council alone is currently housing 200 families in commercial hotels.
You can share this story on social media: