What was the mission of WC-135R Constant Phoenix callsign ATOM36 between 24th April 2023 and 16th May 2023 ?
The WC-135R Constant Phoenix is an atmospheric collection aircraft capable of detecting signs of nuclear explosions in the atmosphere
This very rare plane flew from the UK to Qatar via the Med on April 24th 2023
Where did ATOM36 sample the atmosphere ?
ATOM36 was later picked up returning to the US on 16th May 2023
This remarkable timing suggests but doesn't prove pre-positioning prior to recent events in Ukraine
If you can fill in the gaps then please add the info in the comments
Data excerpts from https://www.airforce-technology.com/projects/wc-135-constant-phoenix-atmospheric-collection-aircraft-usa/
WC-135 Constant Phoenix is an atmospheric collection aircraft developed by Boeing for the US Air Force (USAF) to conduct air-sampling operations, supporting the Limited Nuclear Test Ban Treaty of 1963, which prohibits any country from testing nuclear weapons in the atmosphere, outer space, and under water.
Key features of WC-135 Constant Phoenix
The aircraft features external flow-through devices that allow for collection of airborne particulates on filter paper for performing analysis in the event of a nuclear detonation. The atmospheric sampling and collection suite includes advanced atmospheric research equipment (AARE), including a whole air collection system (WACS), directional gamma sensor system (DGSS), radiation monitoring and analysis system (RMAS), U1-B particulate sampler assembly, and supervisory control and data acquisition (SCADA).
The aircraft is fitted with a pod-based, platform-agnostic, particulate collector called Harvester, which is capable of full radiation detection using a sensor, and a platform-agnostic gaseous collector.
Operations conducted by WC-135 Constant Phoenix
The WC-135 was instrumental in tracking radioactive debris from the Chernobyl nuclear plant disaster in the former Soviet Union in 1986.
The aircraft also collected air samples in international airspace over the Pacific, supporting Operation Tomodachi, which was a US Armed Forces assistance operation for disaster relief in Japan in response to the Tohoku earthquake and tsunami in 2011.
What was the mission of ATOM36 ?
Where did it take samples ?
What were the results ?
Why did it just happen to be around ?
Why not ask the nice people at the US Embassy ?
telephone 0207 4999000
https://uk.usembassy.gov/embassy-consulates/london/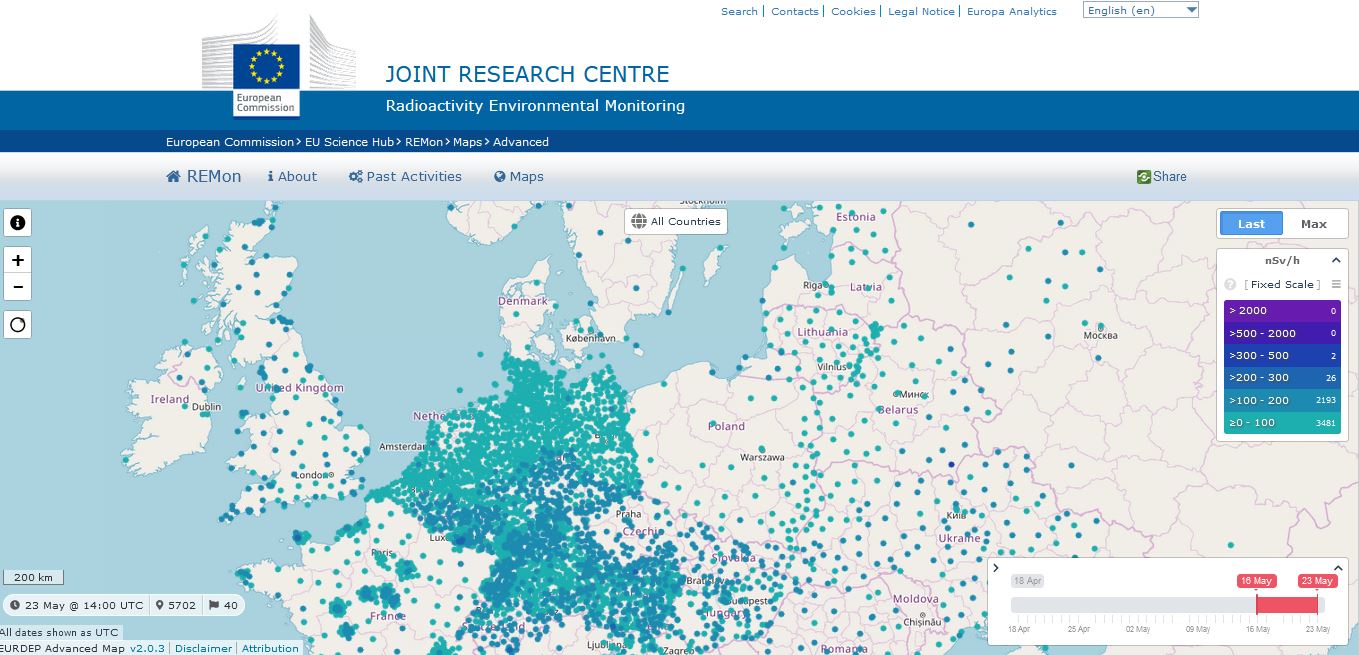 EU Real Time Radioactivity Environmental Monitoring
Tony Gosling Interview With Prof Chris Busby re the nature of DU and those dirty explosions

Full show mp3 here
https://politicsthisweek.wordpress.com/2023/05/17/not-the-bcfm-politics-show-presented-by-tony-gosling-140/
DOWNLOAD THE NOT THE BCFM POLITICS SHOW APP –
Click here to Listen live online each week LIVE STREAM www.talkradio.org.uk Alternative live stream www.radioquk.com
OR Download The Show After Transmission HERE
TONY'S BOOKS: Bilderberg.org
– PAPERBACKS – TONY'S CHANNELS: Telegram – Bitchute – 911 Forum – Radio4All – The Land Is Ours – VK – TwitSpace – NSAbook – Odysee Borenius – Censorious YouTube: Peter Borenius & Public Enquiry