After WW1 Spanish flu was said to have killed 22 million people.  Very large numbers of the victims were soldiers, who had been vaccinated.  Observers at the time (see archive on Tap) noticed that those who went into hospital died while those who stayed home, lived.   The Gulf War produced hundreds of thousands of squalene victims, injected into them – and causing them to have attenuated lives ever since.  Governments want soldiers to do theiur war service then become ill or die.  Ex-military personnel understand the corruption within the system and could become effective opposition.
It is no wonder that servicemen are primary targets of the current depopulation agenda (M-Rna so-called vaccines), maybe another agenda to collapse the US military.  Here are some unfortunate victims, to go with the hundreds of sporting victims reported a. few days ago by Global Research.
War kills plenty enough, but medication can kill and disable far bigger numbers, as we are seeing.  They seem to like launching their medical kill-shots while there are wars going on to provide a cover story, I guess.  How can anyone fight back against the mass killing of humanity by medical bureaucracy.
Atlanta, GA – US Marine Corps recruit Noah Evans, age 21, died suddenly during training on April 19, 2023 – 4th young Marine death in 2 years (click here)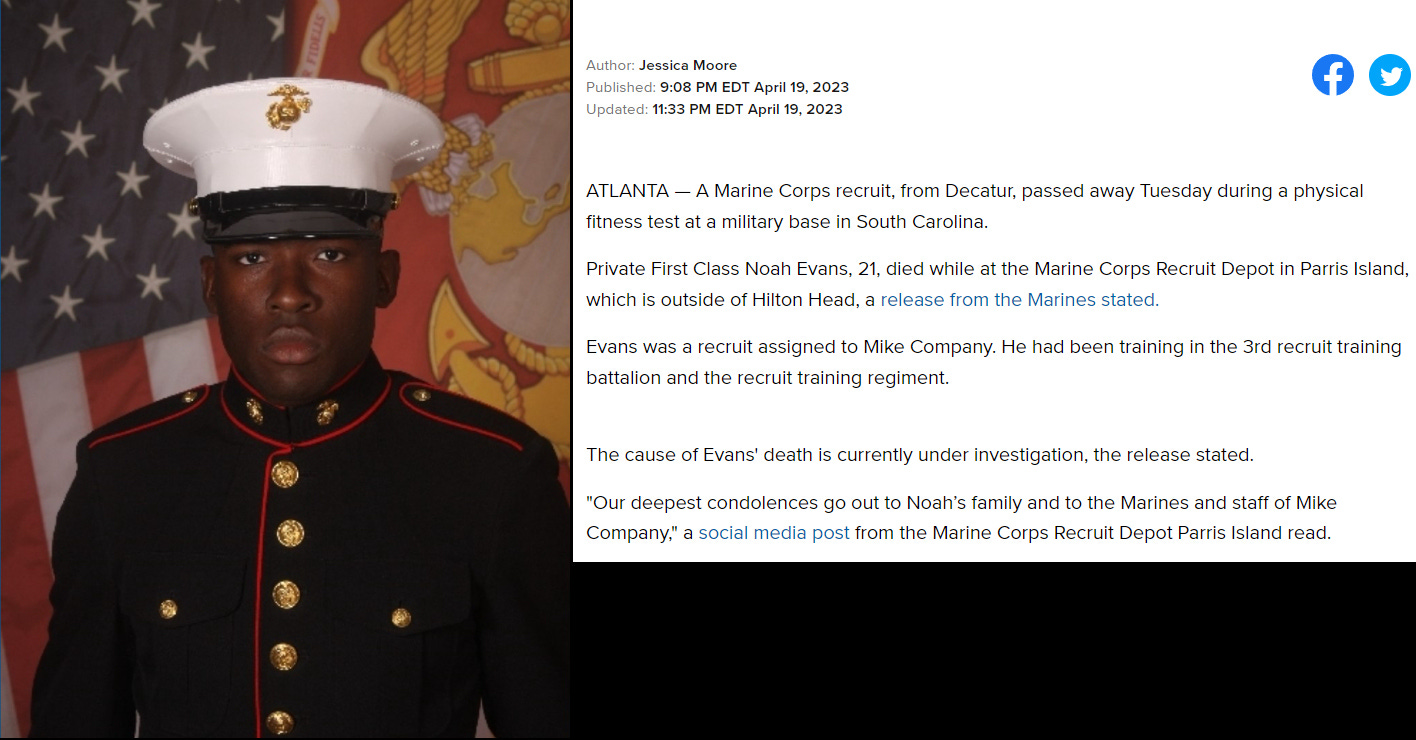 US Marine Cadet, age 18, Gabriel Puchalla died suddenly of an aortic rupture on March 10, 2023 while on base in Camp Lejeune North Carolina. (click here)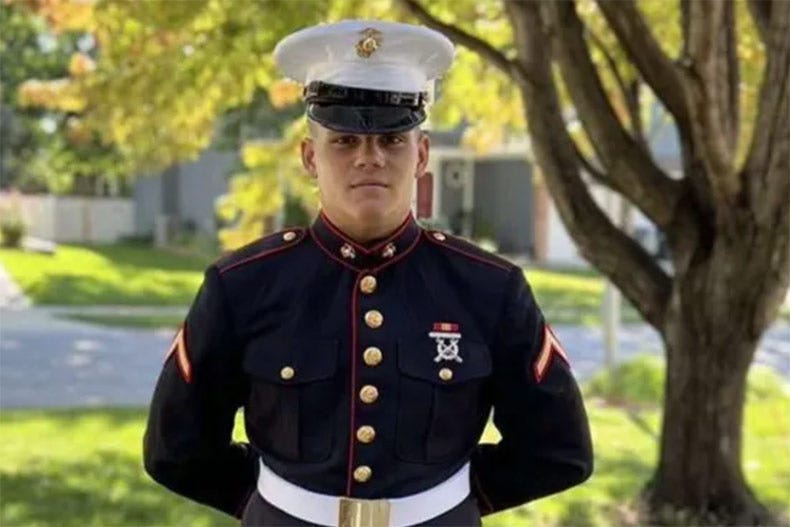 Colorado – US Air Force Academy Cadet, age 22, Cole Kilty died on March 6, 2023, cause of death not released – 2nd US Air Force cadet death in 2023 (click here)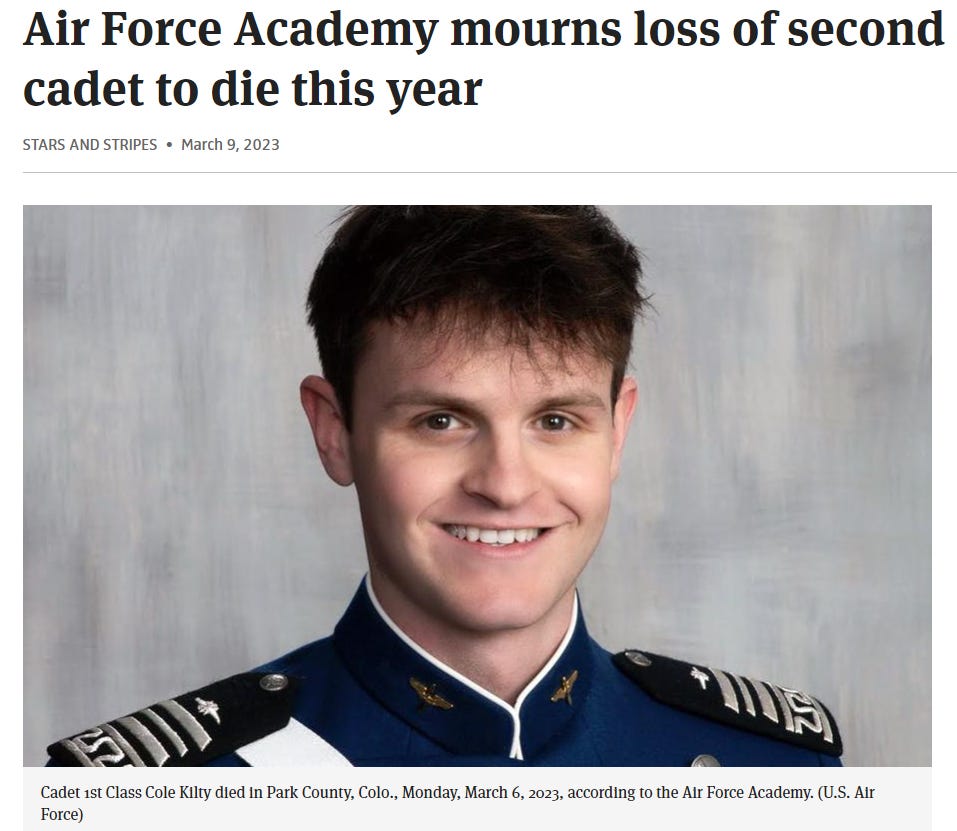 Wellington, NZ – 18 year old cadet Sacha Piper died of a brain aneurysm while on an international Navy cadet exchange in India, Feb. 2, 2023 (click here)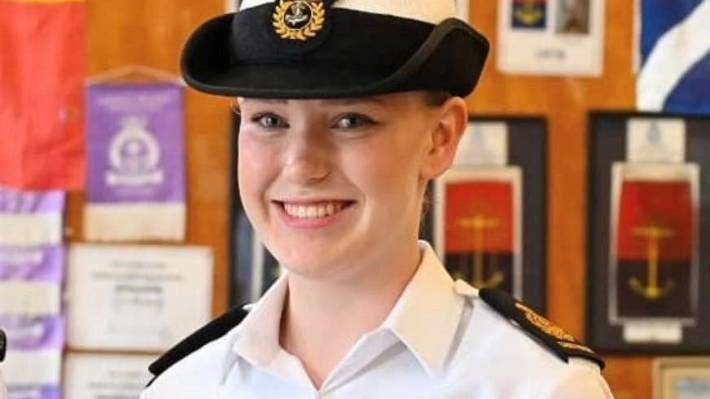 Two Canadian Military Cadets died suddenly in Feb. 2023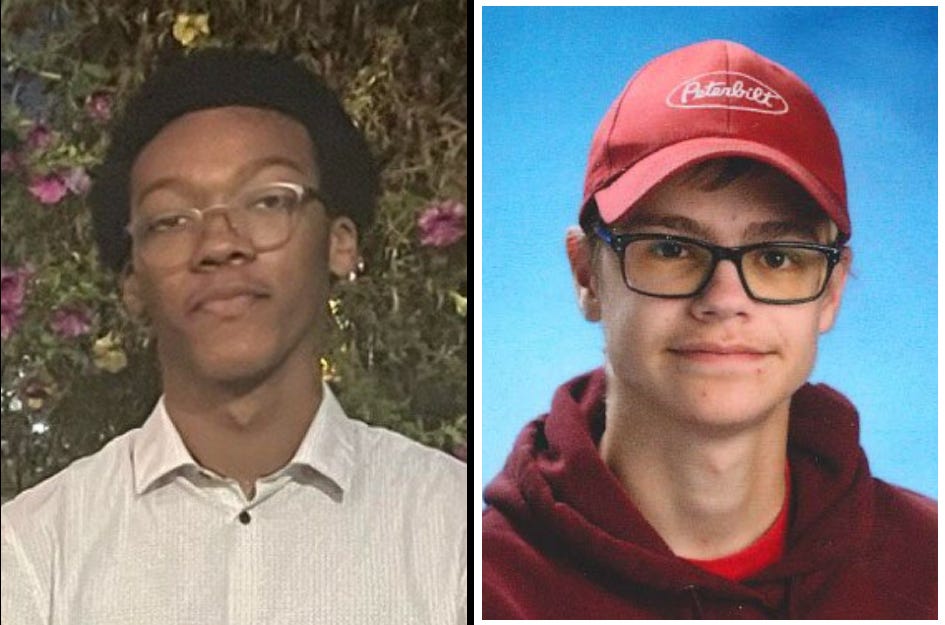 (left) Kalan Alexander Mahoney (age 18, Brampton, Ontario) died suddenly on Feb. 1, 2023 (click here). Kalan was a cadet of the Royal Canadian Army Cadet Corps.
(right) Wyatt Adrian, age 18, of Airdrie, AB, died suddenly on February 5, 2023. (click here). Wyatt was a cadet of the Royal Canadian Air Cadets from 2017-2022.
US Air Force Academy Cadet, 21 year old Hunter Brown died suddenly on Jan. 9, 2023. He had blood clots in his lungs (click here)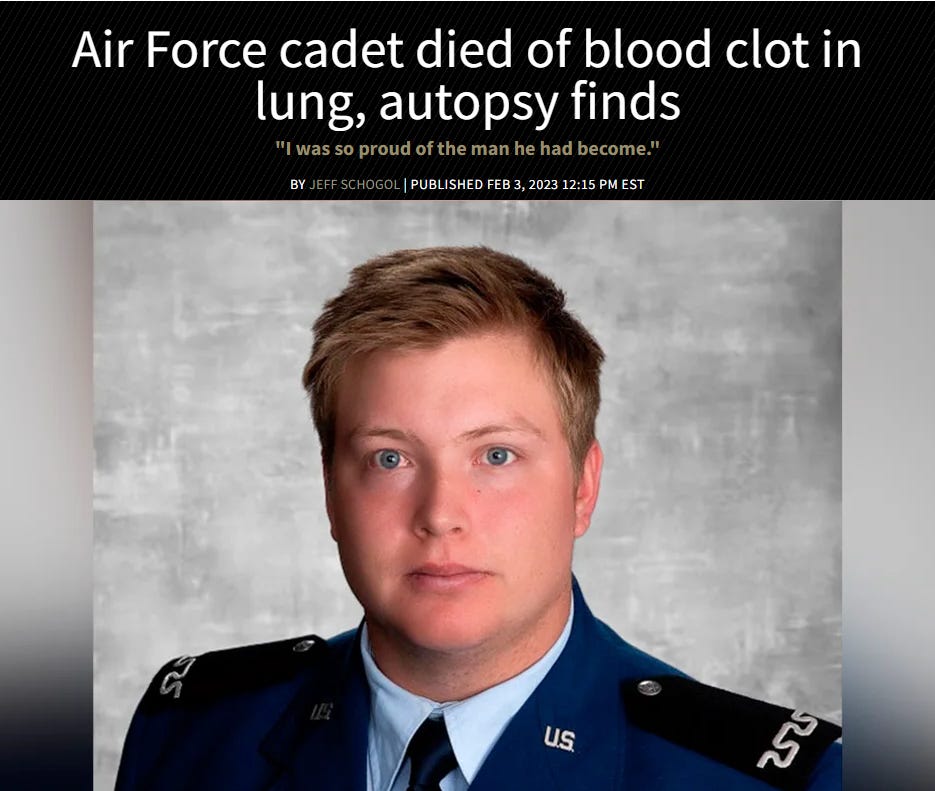 Naples, Italy – 19 year old Greek female navy cadet Talia who was on board the Prometheus ship died 48hr after feeling unwell on Aug. 23, 2022 (click here)
Upon arrival in the Italian city, the cadet was taken to the hospital, where she developed a hemorrhagic rash, and then sepsis. The patient's clinical picture worsened "right before our eyes", as a result, she ended up in intensive care. Doctors from Greece also went to Italy, but the girl died on Aug.25, 2022.
US Marine Recruit Brandon Barnish, age 26, of Evans, Ga., was found dead at the base on Parris Island on Sept. 29, 2021. (click here)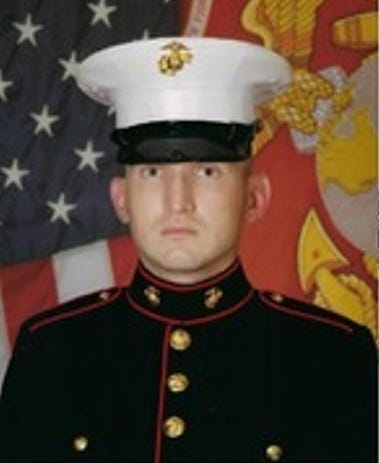 US Marines recruit, Anthony Muñoz, age 21, of Lawrence, Mass, died on Sep. 16, 2021 after falling from a balcony. MCRD Parris Island officials said his death appeared to be a suicide. (click here)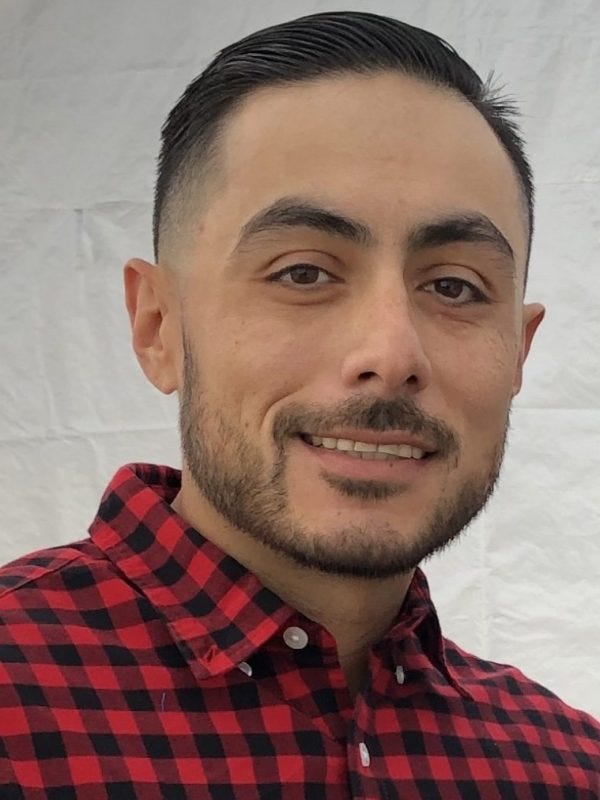 US Marines recruit, 19 year old Dalton Beals of Pennsville, N.J., died during the end of the "The Crucible," a grueling 54-hour training exercise, on June 4, 2021 (click here)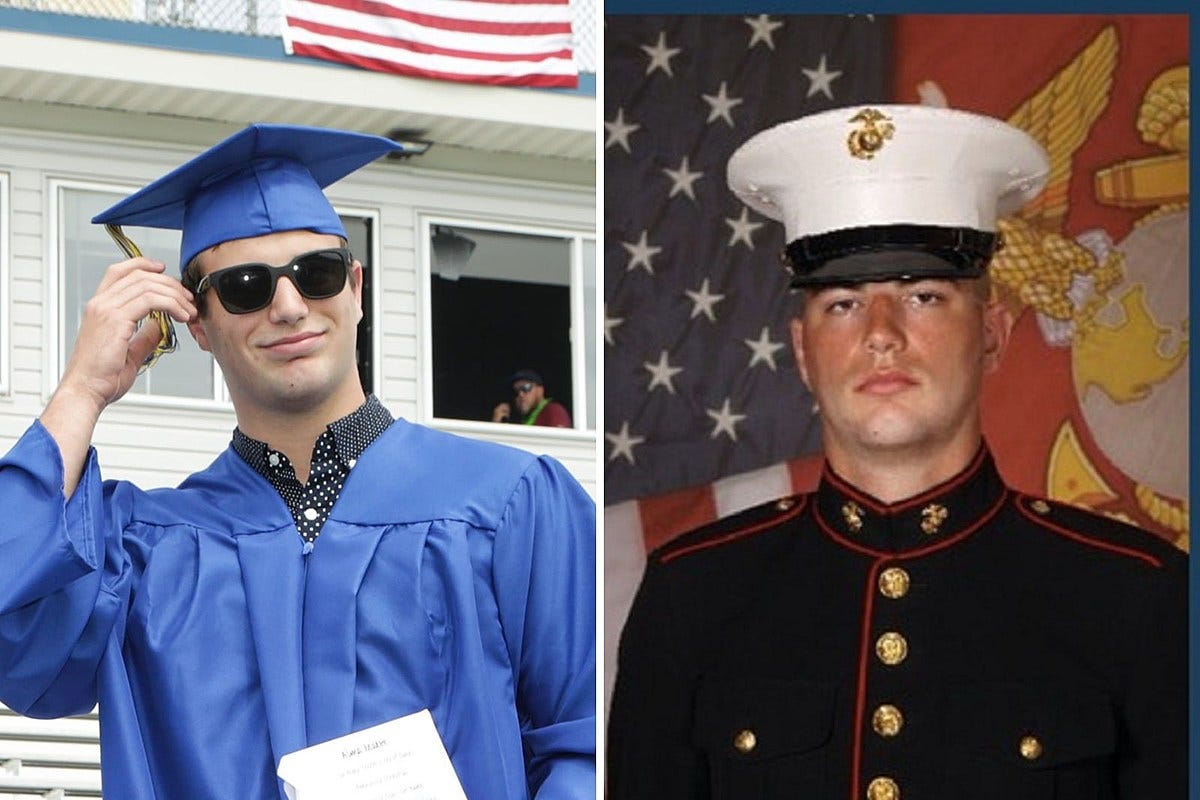 My Take…
There has been a tsunami of COVID-19 vaccine injuries and deaths in the US military, but there hasn't been much attention paid to the young military cadets from highly vaccinated countries who are dying suddenly and under mysterious circumstances.
Each of these cadets were 18-22 years old (one was 26). Sudden deaths shouldn't be happening in this age group and every death should be thoroughly investigated.
South Korea had a 22 year old military recruit collapse 5 days after taking his first Pfizer COVID-19 mRNA vaccine. He was found unresponsive at 8am hunched beside the bed, was taken to ER, had ventricular fibrillation, CPR was performed for 2 hours and he died (click here).
A very thorough autopsy by the Korean military proved his death was caused by the Pfizer mRNA vaccine. The Korean CDC acknowledged this case as a post Pfizer vaccine myocarditis death.
*
Note to readers: Please click the share button above. Follow us on Instagram and Twitter and subscribe to our Telegram Channel. Feel free to repost and share widely Global Research articles.
Dr. William Makis is a Canadian physician with expertise in Radiology, Oncology and Immunology. Governor General's Medal, University of Toronto Scholar. Author of 100+ peer-reviewed medical publications.
Featured image: Pfc. Shaniah Edwards, Medical Detachment, prepares to administer the Moderna COVID-19 vaccine to soldiers and airmen at the Joint Force Headquarters, February 12, 2021. (U.S. Army National Guard photo by Sgt. Leona C. Hendrickson – Source.)
Died Suddenly: Military Cadets, Mandated to be Fully COVID-19 Vaccinated, Are Dying Suddenly Recently