The projectile, which was destroyed over the town of Feodosia, inflicted no casualties or damage, a local official said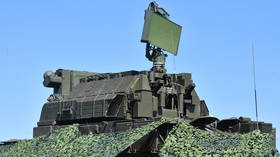 Russian air defenses have shot down a Ukrainian missile over Crimea, local authorities said on Saturday, adding that the strike did not result in any casualties or damage to infrastructure.
In a Telegram post, Sergey Aksenov, the head of the Republic of Crimea, said "a missile launched from Ukraine's side" had been destroyed over the coastal town of Feodosia in the southeastern part of the peninsula.
Later, Oleg Kryuchkov, a senior adviser to Aksenov, issued an update on the incident, claiming that "the debris of a Ukrainian missile downed by air defenses fell in one of the Crimean settlements. There are no casualties or destruction."
Local media released photos showing a large cloud of smoke, which was visible from several kilometers away, rising from the location where the projectile apparently landed. They also published pictures of what looked like debris from the missile.
Amid the ongoing Ukraine conflict, Crimea, which hosts major Russian naval facilities, has repeatedly become the target of Kiev's strikes. Last month, local authorities said Russian air defenses had shot down several Ukrainian drones over the town of Dzhankoy, with one person injured during the raid. The aircraft debris also damaged a house and a shop in the area, they added.
The peninsula, which overwhelmingly voted to become part of Russia in 2014 after a Western-backed coup in Kiev, could also become the target of a potential Ukrainian spring counteroffensive, according to Ukrainian officials. Mikhail Podoliak, a senior aide to Ukrainian President Vladimir Zelensky, claimed earlier this week that Kiev could retake Crimea within seven months, adding that it "must eradicate everything Russian" on the peninsula.
Last month, however, former Russian president Dmitry Medvedev warned that any attempt by Kiev to seize Crimea could warrant the deployment of "all means of protection," including Moscow's nuclear assets.