She springs into action yet again in her endless pursuit of the truth. Yippee! Where would we be without Marianna and that bastion of reliable information that is the BBC, not! She has a budget and backing and chooses to bully the likes of Richard D. Hall, an independent who's been at it for several years, doing his best. Miss Spring projects her own misgivings onto Richard as is so often the case. I suggest we be aware and support the likes of Richard D. Hall.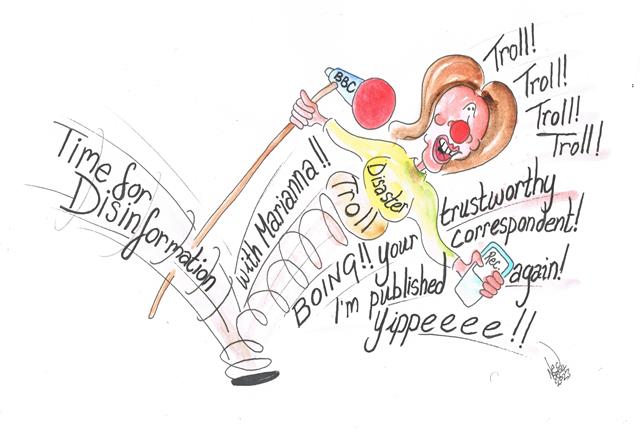 Do 'disaster trolls' believe the conspiracy theories they promote?
https://www.bbc.co.uk/news/uk-65201949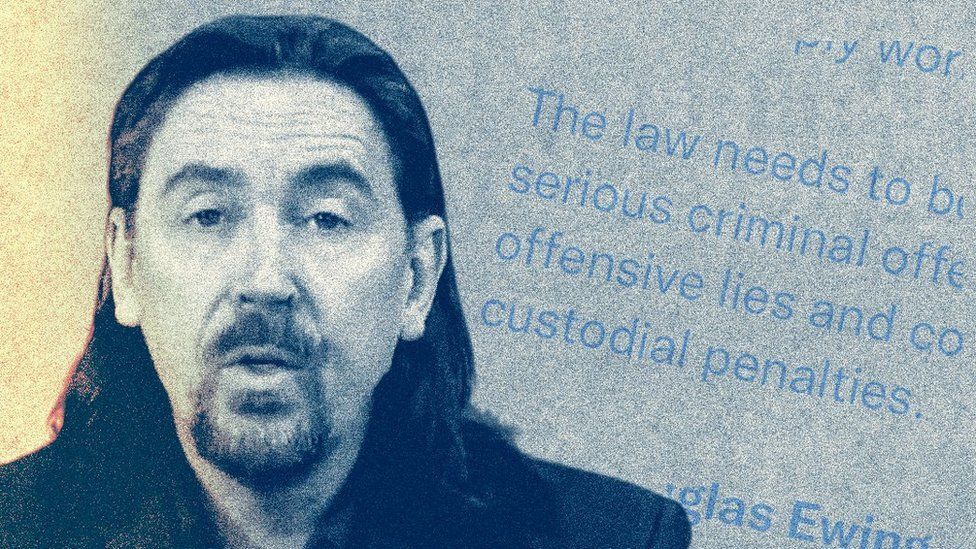 Do the conspiracy theorists who push the most shocking narratives circulating online really believe them?
Martin and Eve Hibbert, who were left with severe disabilities after the 2017 blast, are suing Richard D Hall for defamation and harassment after he tracked down Eve and other survivors to see if they were lying about their injuries. It's the first time such action has been launched against a conspiracy theorist in the UK.
His defiant response to the BBC investigation, and an initial letter from Mr Hibbert's legal team, suggests he is yet to change his position. He continues to defend the book he has written claiming the Manchester Arena attack was staged, and to post suggestions the attack was fabricated online. But why?
We can turn to the US for some possible answers. This new case echoes the legal action brought there against conspiracist Alex Jones, one of the world's most famous "disaster trolls."
Mr Jones was ordered to pay nearly $1.5bn [£1.2bn] by a US court to families of the US Sandy Hook school shooting, after falsely claiming the 2012 attack was a hoax. Whether he really believed the theories he pushed was a key question surrounding the trial. In court he admitted that the attack was real.
But then later in live streams looking to raise funds for his conspiracy show Infowars, he doubled down on his theories and suggested the case was just more proof that the "Deep State" was trying to stop him telling the truth.
After all, Mr Jones has built a multi million-dollar empire from selling supplements and merchandise alongside promoting conspiracy theories. According to evidence presented in court, Alex Jones' Infowars online store generated more than $165m from September 2015 to December 2018. The marketing is inextricably entwined with Mr Jones and his mission.
A former Infowars employee, Rob Jacobson, said Mr Jones "doesn't care" about whether the attack was faked or not.
"What he cares about is being extremely rich, and he cares about being the king of this world he created," Rob Jacobson told me.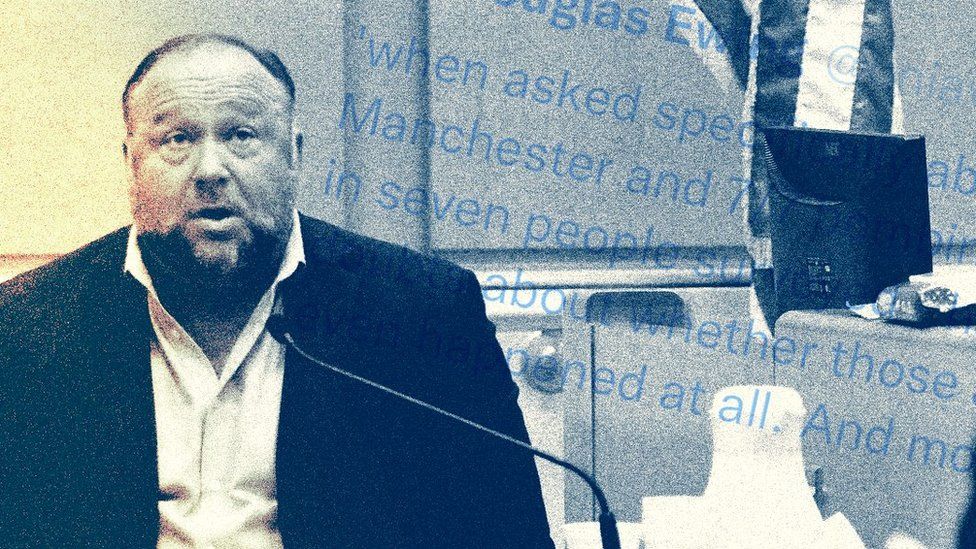 But if Infowars is a multi-million dollar organisation, Mr Hall's business is no more than a cottage industry.
He makes money through selling DVDs of his online shows as well as books and live speaking tours. His YouTube following had more than 80,000 subscribers before it was taken down, while Infowars had 2.4 million YouTube subscribers before it was booted off the platform.
So if Mr Hall is only making a living from his theories, rather than making huge profits – why keep going?
An insider who used to appear in Mr Hall's videos, Neil Sanders, told me Hall had admitted to him several years ago that he didn't believe theories about staged attacks, saying "this is all nonsense".
But he does think Mr Hall has now convinced himself of these conspiracy theories.
"He's coming at it from the perspective that he's unearthed a massive fraud that has been perpetuated on the world, essentially. And so he's wanting to uncover that for the greater good," he told me.
The intensity of that fan devotion is important here, too. After all, the success of conspiracy theorists like Mr Hall and Alex Jones appears dependent on continuing to serve up new and ever more extreme material for their audiences. Neil thinks that's been key to Hall's pivot to these kinds of theories.
I've only met Richard D Hall once, when I confronted him at the market stall he ran selling these books and DVDs to ask him questions from the survivors. He told me I was wrong about how he operated – and didn't answer lots of what I asked.
Instead, he saved his real responses for a video he shared later on his own terms, addressing his followers rather than me. Several videos have come since, including after Martin Hibbert's legal team got in touch.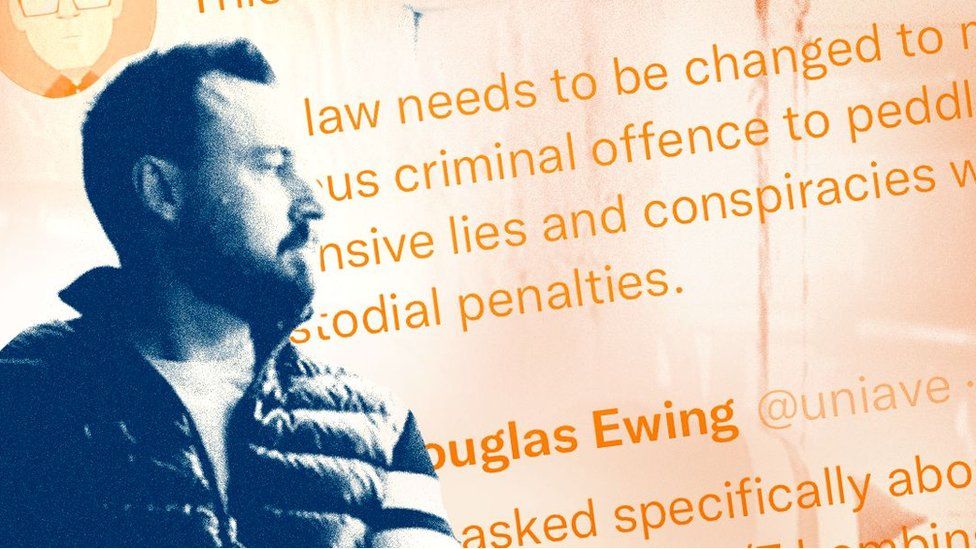 He's continued to aim at me and the BBC, describing my reporting and the media reaction as being directed by a "hidden hand" which is desperate to silence the truth.
What that suggests to me is that his most important audience remains not the wider public, but his fans – where he's in control of the narrative and leads his own community. That's not dissimilar to how Mr Jones continues to appeal to his followers online, even after being ordered to pay damages.
"Conspiracies are rooted in someone's belief system. They become someone's identity and their entire community, making them even more difficult to reject," social psychologist Dr Daniel Jolley at the University of Nottingham tells me.
"Time will tell the impact these kinds of court cases have, as they are new. Could it provoke a reflection in them about the harm this causes, or will they double down and see it as part of an attempt to silence the community?"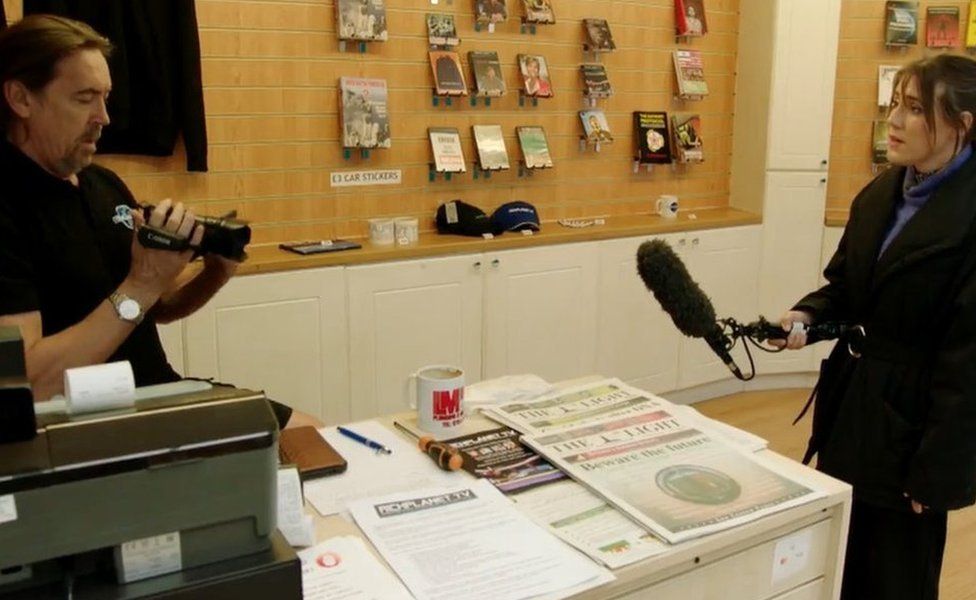 Like with Alex Jones, maybe the question of whether Hall believes his conspiracy theories is the wrong one to ask.
What matters is that he's created a conspiracy world that causes real world harm. It may be very difficult to untangle yourself from the heart of the web you've spun.