Islamic UK Is Here Take It Seriously. It Will Be Cemented At The "Coronation".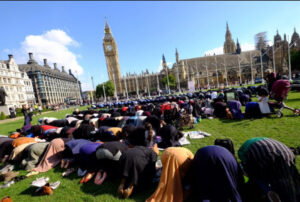 LONDONISTAN: Muslim Mayor; 423 New Mosques; 500 Shuttered Churches
Guy Leven-Torres
As I stated years ago Britain is intended to become an Islamic State in the guise of multiculturalism. Christianity is at the bottom of the dung-heap the country now resembles. A day or two ago Iftar was held in any number of formerly Christian places of worship. In Islamic "law" these places are now considered Islamic shrines, soon to be forbidden to the infidel. On Tower Bridge the Muezzin was called out for all to hear from that once famous location. Pharoah Khan has festooned Oxford and Regents Streets in Eid decorations. Effectively as one of the Peoples mentioned in the Koran we Christians will in time be made to pay the jizya tax as a 'protected' group under the Islamic King or Potentate.
I suspect the 'Lockdown' and mask wearing was all part of this as are the 15 minute zones around UK cities that will condition the imprisoned to paying fines as part of jizya.
There is strong evidence that Charles converted to Islam many years ago. However, I am trying to locate it without success except from one video from the USA. The evidence is in the heraldry of King Charles. Around 12 years ago a supposed spoof was written in New English Review entitled the Lancaster Plan to Make UK Islamic. It was not a spoof but a very well written article let out by Counter Intelligence to warn us all about the situation that has become reality.
We are currently experiencing a full on hijra invasion across the Channel. The election of a known Islamist in London and to lead Scotland is all part of this process….that appears to now be unstoppable. The 'British" are now too soft and decadent to resist and I predict many will simply become Moslem for an easy life. This will take place firstly among the Upper Class or former New Labour/SNP elite then the dumb besotted herd will follow.
The current spate of open paedophilia is being pushed on our TV screens to hasten our shocked population into the strongly moral Islam. I also warned of this years ago. Chrislam will be proposed as the new "faith". I will never accept this errant nonsense but most will it seems and this desecration of Christian cathedrals and churches over Easter was the announcement of this. 
Bishop Guy