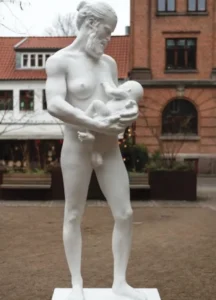 See below.
Woe to those who are calling evil, good, and good, evil, Placing darkness for light, and light for darkness, Placing bitter for sweet, and sweet for bitter – Isaiah 5:20
Art exhibitions organized by elite organizations reveal how deeply sick and disturbed these people truly are. Here are paintings that were on display inside the European Parliament in Brussels.
A small person is forcibly stuffed inside a jar. These paintings symbolically depict the abuse and control of people … inside the headquarters of the European Union … which is shaped like the Tower of Babel, by the way.
"No one will enter the New World Order unless he or she will make a pledge to worship Lucifer. (David Spangler, Director of Planetary Initiative, United Nations)