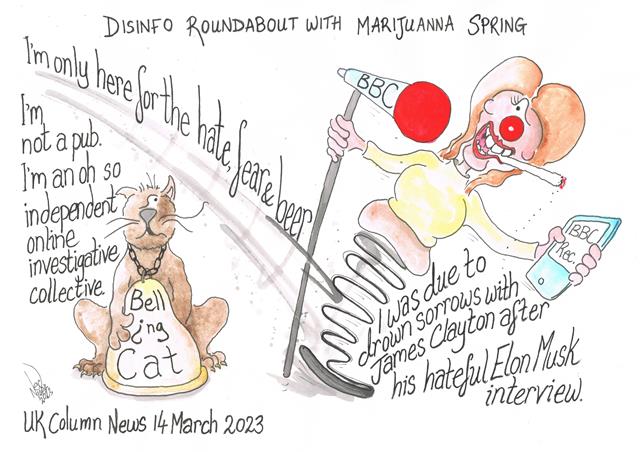 Zebedee's niece Marijuanna Spring was so perturbed at the hateful, extreme right wings of the same bird bullying antics that the nasty, foul Elon Musk put upon poor little BBC tech correspondent James Clayton, that she arranged to meet him for a pick-me-up drinky poos where he could come and make eyes at her down at The Old Bell & Cat. Bush! Bush!
Not only did Marijuanna have little concept of old time musical hall references and take umbrage at the misogynist use of the term bush, but she had indeed mistaken renowned prize winning independent UK intelligence agency Bellingcat, spelt with an upside down ?, for a pub. Her Miss. Information source was corrected by 008 Elliot Higgins who also informed Marijuanna that he is no relation to Professor Higgins and that his fellow independent agents 008½ Christiaan Triebert and 008¾ Aric Toler are actually the super sleuths responsible for ground breaking work on Where On Earth Are The Skripals?, Moderate head-chopping Syrian rebels and the equally moderate Russian opposition politician Navalgazingly Alexei who has never, never, ever claimed any allegiance to Bandera nor owns any Hugo Boss whistle 'n' flutes, but was formerly a virtual assistant technology app. Marijuanna scolded Not Prof. Higgins on his use of Cockney Rhymin' Slang and the hateful misogynistic term Cock before undertaking deep dive research into old time musical hall lyrics…
https://genius.com/Florrie-forde-down-at-the-old-bull-and-bush-lyrics
They then discussed the sad situation of troll state funded media and the rumours of contracts of their loved ones being terminated:
Top BBC presenters including Huw Edwards, Reeta Chakrabarti, Clive Myrie and Sophie Raworth get bombshell redundancy letters as the Beeb tries to save millions:
https://www.dailymail.co.uk/news/article-11976973/Top-BBC-presenters-including-Huw-Edwards-Sophie-Raworth-redundancy-letters.html
At about that point in this saga reminiscent of a Prof. Stanley Unwin gobbledygook sketch, Marijuanna declared it was time for bed so she could get a good night's rest before continuing her project Troll Bullying Richard D. Hall.
And here's the news from Friday…
Link with show notes below:
https://www.ukcolumn.org/video/uk-column-news-14th-april-2023
Odysee:
https://odysee.com/@ukcolumn:9/Ukcolumn-news-140423:5
Previous:
https://tapnewswire.com/2023/04/only-the-3rd-most-common-side-effect/