A pound means a pound in weight of Sterling silver – hence the currency is called Sterling.
A pound can never be digital.
The paper version of a £ promised to pay the bearer on demand his lb (i.e. 16 ounces in weight) of sterling silver.
A digital version promises slavery, and nothing more.
Your silver has been removed and you'll click buttons wondering what happened to your wealth.
Transfer money through whatever system they throw at us, but keep no money there.
It's not money anyway, just digits on a computer screen, that can be deleted any time they want.
Keep 4 ounces of silver in your pocket, or 4 ounces in each pocket, and 800 ounces (50 lbs) around your home or workplace.
No one will refuse silver once digital money has become the discredited system it is bound to be. You won't starve that way.
Buy gold if you want but it's far too valuable and more a target for stealing.
Silver is money that you can use.  Dare I say, real money.  Used as such since time began.
I am making a few pure silver pieces for pocket money use at the moment –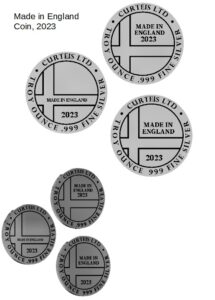 No many in stock as yet I'm afraid…when I do have them, I'll put them up on www.englandcalling.co.uk in the merchandising section, as hallmarked silver rounds.
Try in two weeks from now.