April 9, 2023
by Brian Shilhavy
Editor, Health Impact News
We are living in unprecedented times. I think it is safe to say that nobody alive today has ever seen such a massive realignment of countries in the Middle East coming together to put aside their differences and start working together to try and stop the endless wars, and work together for economic prosperity.
And the two countries that are spearheading the uniting of these Middle Eastern countries, are China and Russia.
This was a historic week of new meetings between countries in the Middle East, many of which have been bitter enemies with each other, sometimes for hundreds, if not thousands of years.
Here is a brief summary of these historical events that took place this past week.
Top Iranian, Saudi envoys meet in China in restoration of diplomatic ties
by Bernard Orr and Aziz El Yaakoubi
Reuters
Excerpts:
BEIJING/RIYADH (Reuters) – The foreign ministers of Iran and Saudi Arabia met in Beijing on Thursday for the first formal gathering of their top diplomats in more than seven years, after China brokered a deal to restore relations between the top regional powers.
After years of hostility that fuelled conflicts across the Middle East, Iran and Saudi Arabia agreed to end their diplomatic rift and reopen diplomatic missions in a significant deal facilitated by China last month.
In brief footage broadcast on Iranian state TV, Prince Faisal bin Farhan Al Saud and his Iranian counterpart, Hossein Amirabdollahian, greeted each other before sitting down side by side.
Saudi Arabia and Iran, the Gulf's dominant Sunni Muslim and Shi'ite Muslim powers respectively, said in a joint statement they would launch arrangements to reopen embassies and consulates within the two-month period stipulated in the deal.
"The era of the United States' involvement in this region is over … The regional countries are capable of preserving security and stability in the Middle East without Washington's interference," another Iranian official said. (Source.)
Moscow Hosts Meeting Aimed at Syria-Turkey Normalization
by Dave DeCamp
AntiWar.com
The deputy foreign ministers of Syria, Turkey, Iran, and Russia wrapped up two days of talks in Moscow on Tuesday that were aimed at working toward a normalization deal between Ankara and Damascus.
There's no sign a breakthrough was made, but a follow-up meeting at the foreign minister level is expected to happen soon. A Turkish Foreign Ministry source told Russia's TASS news agency that the four sides agreed to continue consultations and are planning to hold a foreign ministers meeting.
Russian Foreign Minister Sergey Lavrov said that Moscow had proposed dates for the meeting of the top diplomats from the four countries. The talks this week built on a meeting between Syria and Turkey's defense ministers hosted by Russia in December 2022, marking the first time the two countries held talks at that level since 2011.
Read the full article at AntiWar.com.
Saudi, Omani delegations arrive in Yemen for talks with Houthi leaders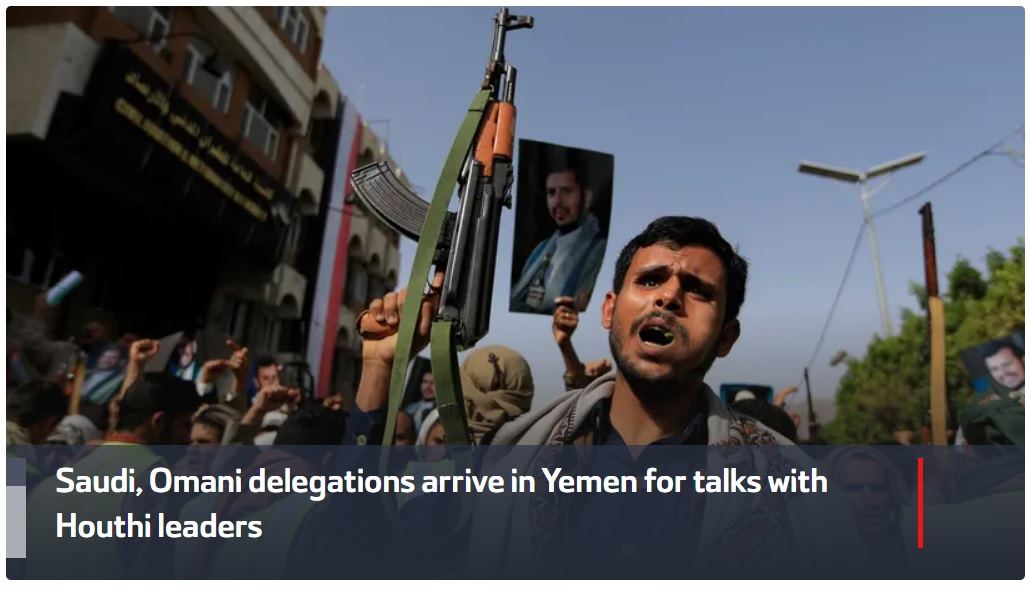 Saudi and Omani delegations arrived in Yemen's capital Sanaa, Houthi-run media said on Sunday, to negotiate a permanent ceasefire deal with Houthi officials.
The visit indicates progress in the Oman-mediated consultations between Riyadh and Sanaa, which run in parallel to UN peace efforts. Peace efforts have also gained momentum after Saudi Arabia and Iran agreed to reestablish ties in a deal brokered by China.
The envoys, who landed late on Saturday, will meet with the head of Houthi Supreme Political Council, Mahdi al-Mashat, to hold talks on ending hostilities, Houthi news agency SABA reported.
Sources have told Reuters that the Saudi-Houthi talks are focused on a full reopening of Houthi-controlled ports and Sanaa airport, payment of wages for public servants, rebuilding efforts and a timeline for foreign forces to exit the country.
A Houthi official said on Saturday the group had received 13 detainees released by Saudi Arabia in exchange for a Saudi detainee freed earlier, ahead of a wider prisoner exchange agreed by the warring sides.
At talks in Switzerland last month attended by the United Nations and the International Committee of the Red Cross, the Yemeni government and the Houthis agreed to free 887 detainees.
The 13 prisoners are part of that agreement, Houthi official Abdul Qader al-Mortada said.
Read the full article at Al Arabiya Network
Saudi delegation arrives in Iran to discuss diplomatic missions after historic deal in Beijing
A Saudi delegation arrived in Tehran on Saturday to discuss reopening its diplomatic missions in the Islamic republic, two days after a historic meeting in Beijing between their foreign ministers.
The visit follows the unprecedented meeting between their heads of diplomacy in China on Thursday after they agreed last month to restore diplomatic ties.
The Saudi diplomatic delegation arrived in Iran to discuss the reopening of its missions after a seven-year absence, Riyadh's foreign ministry said.
Cited by the official Saudi Press Agency (SPA), the minister called the visit part of "implementing the tripartite agreement" reached on March 10 between the two regional powers, brokered by China, to restore ties ruptured in 2016.
The two long-time Middle East rivals have now pledged to work together.
When Saudi Foreign Minister Prince Faisal bin Farhan and his Iranian counterpart Hossein Amir-Abdollahian met in Beijing on Thursday they vowed to bring security and stability to the turbulent Gulf region.
Read the full article at Agence France-Presse.
Iran appoints first UAE ambassador since 2016 as Gulf relations improve
CAIRO, April 4 (Reuters) – Iran said on Tuesday it had appointed an ambassador to the United Arab Emirates for the first time since 2016, amid a realignment of relations between Gulf states and Iran.
The move comes after the UAE in August moved to upgrade ties and said it was returning its ambassador to Tehran.
The UAE downgraded relations with Iran after Saudi Arabia severed ties with Iran in January 2016 after Iranian protesters stormed the Saudi embassy in Tehran following Riyadh's execution of a prominent Shi'ite cleric.
In a steep change to years of hostility between Iran and Saudi Arabia that had threatened stability and security in the Gulf and helped fuel conflicts in the Middle East from Yemen to Syria, Riyadh last month said it would re-establish relations with Tehran in a China-brokered deal.
The UAE, which has business and trade ties with Iran stretching back more than a century, started re-engaging with Tehran in 2019 after attacks in Gulf waters and on Saudi energy sites.
The UAE's Dubai emirate has long being one of Iran's main links to the outside world.
Iran's newly appointed ambassador Reza Ameri had served as the director general of the Iranian expatriates office in the foreign ministry, Iranian state media said.
Read the full article at Reuters.
The United States and Israel Are Not Happy
Wow, what a historic week for developing new alliances in the Middle East!!
However, the United States and Israel are not happy about these new alliances in the Middle East.
CIA director visited Saudi Arabia, aired 'frustration' over Iran, Syria thaw
by Al-Monitor
CIA Director Bill Burns made an unannounced trip to Saudi Arabia this week where he reportedly aired Washington's frustrations over Riyadh's opening to Iran and Syria through mediation brokered by US rivals China and Russia.
Speaking on condition of anonymity, a US official confirmed the trip to Al-Monitor. "Director Burns traveled to Saudi Arabia where he met with intelligence counterparts and country leaders on issues of shared interest," the US official said.
The official did not disclose the exact day of the trip but said that Burns discussed intelligence cooperation, especially in the area of counterterrorism. The CIA director met the country's Crown Prince Mohammed bin Salman, The Wall Street Journal reported on Thursday.
The report revealed that the US spy chief expressed displeasure over Riyadh's ongoing rapprochement with both Tehran and Damascus.
"Burns expressed frustration with the Saudis, according to people familiar with the matter. He told Saudi Crown Prince Mohammed bin Salman that the US has felt blindsided by Riyadh's rapprochement with Iran and Syria," the WSJ said.
Read the full article at Al-Monitor.
Israel 'Ready' to Attack Iran Without US Help: IDF Chief
by Dave DeCamp
AntiWar.com
The head of the Israeli Defense Forces (IDF) said Wednesday that Israel is "ready" to attack Iran and could do so without help from the US.
"We are ready to act against Iran. The Israeli army has the ability to strike both in distant countries and near home," IDF Chief of Staff Herzi Halevi said.
The comments come as tensions between Israel and Iran are soaring. Israel has ramped up its airstrikes in Syria and killed two members of Iran's Islamic Revolutionary Guard Corps (IRGC) in Damascus last Friday. Tehran has vowed that it will respond.
Israel has a history of launching covert attacks inside Iran, but it's not clear if its warplanes could pull off airstrikes against the Islamic Republic without assistance from the US. Halevi insisted that Israel can, as the IDF has been preparing to attack Iran for years.
"We know how to act alone. We are a sovereign nation that reserves the right to make its own decisions. It would be good to have the United States on our side, but it is not an obligation," he said.
The US and Israel have been rehearsing for war with Iran by holding massive military exercises. In January, the US and Israel held their largest-ever joint drills in a provocative message aimed at Tehran.
Tensions are also soaring in the region due to Israel's crackdown on Palestinians and Israeli forces raiding the Al-Aqsa Mosque during Ramadan. A barrage of rockets was fired into Israel from Lebanon on Thursday in response. Sources told Reuters the rockets were fired by Palestinian factions based in Lebanon, not Hezbollah. Israel has blamed Hamas, signaling a potential escalation in Gaza.
Read the full article at AntiWar.com.
Is the Middle East the "New Europe"?
In 2018 Saudi Crown Prince Mohammed bin Salman stated:
The new Europe is the Middle East… Saudi Arabia, Bahrain will be different, even Qatar despite our differences, they have a strong economy and they will be different in 5 years.
Well, "5 years" from 2018 is now: 2023.
Related: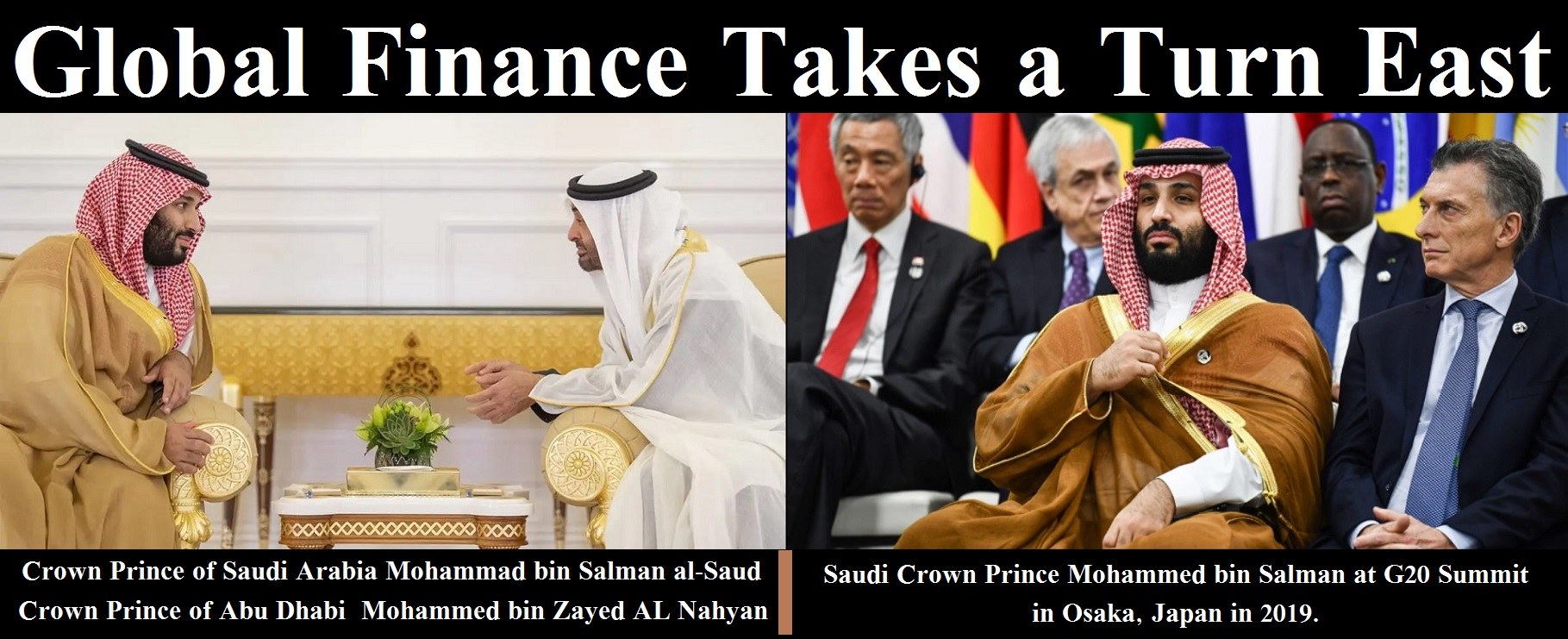 https://healthimpactnews.com/2023/beijing-and-moscow-are-uniting-the-middle-eastern-oil-rich-countries-sunni-and-shia-muslims-making-peace/