The FSB reported that Wall Street Journal correspondent Evan Gershkovich was detained in Yekaterinburg.
According to the intelligence service, the American "on the instructions of the United States was collecting information about one of the enterprises of the Russian military-industrial complex, which constitute a state secret."
A case of espionage was initiated  under section 276 of the Criminal Code of the Russian Federation.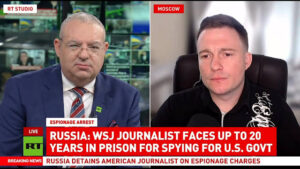 www.vk.com/video487732111_456239254
Mike Jones comment (independent journalist living in St Petersburg) – Collective west showing signs of desperation using journalist to investigate Russian ammunition production capabilities.
His channel is iEarlGrey on youtube inter alia.
https://www.youtube.com/watch?v=yeyEu8jNDLA