Ukrop sabotage groups can blow up rail lines in Crimea, but the whole Russian Army can't seem to blow up the ukrop railroads.
Special Operation Z, [23.02.2023 21:26] ===============================
⚡Part of the railroad was blown up in Crimea
The explosion damaged part of the rails 12 km from the Simferopol station, near the village of Pochtovoye.
3 trains were detained: train Sevastopol – St. Petersburg from 166 passengers, as well as 2 suburban electric trains.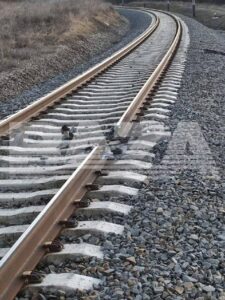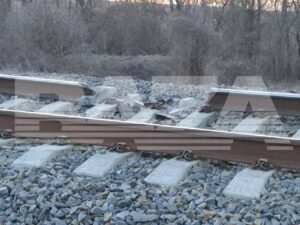 TAP – is the higher cabal of bankers that runs the war unwilling to permit Russia to win the war quickly?  It seems so.
If the Russians had bombed key railway bridges and connections, nothing would be arriving in East Ukraine from the West as all heavy weaponry is delivered by rail…and troops.
Or does Russia or rather the banking cabal want the weaponry to arrive so it can be destroyed leaving all NATO's European allies devoid of weaponry, defenceless and totally vulnerable – and all its troops wiped out to boot?
Does the higher cabal have a plan for Russia to sweep across Europe to the Channel as Prigorzin, head of the Wagners, stated (he called it La Mancha – or Le Manche as in French).
That way an authoritarian regime can be imposed across the continent based in Moscow without any elections being held, and 26 countries needing to agree on every measure in Brussels meeting rooms.
Communism for all.  An end to private enterprise, and private property ownership, and endless medical tyranny, thinning the population to a trickle.  That would make sesne at least.
Nothing else does.
A conversation with a Wagnerite….via Russell Bentley vk.com
Several theses.
Ammo consumption is very high. They often fail to deliver. Many use trophy. (captured ammunition and weapons)
The machine (gun) is enough for a maximum of 2-3 months. Then they usually change to trophy ones.
In a "skirmish" there is often no time to reload the machine gun, take the trophy one and continue with it.
It was that I managed to change five times in one "hassle".
(I don't even want to think what kind of pros they are. It's better to be on the same side with such people.)
Bullets are used mainly armor-piercing. "… you can't pierce with ordinary armor …".
Often VSUshniki under acid (Ukrop troops). He says there were precedents that "I pierce a bulletproof vest, there are definitely holes in the armor. And he rushes at me. And he moves for another 15-30 seconds." there were cases when, with a hole in his forehead, he continued to blink his eyes for 15 seconds. We also saw the liquid itself. Bubbles with pink liquid.
There was a video (at ASh too) where, after being wounded in the leg, the VSU officer injects something into himself and goes on as if nothing had happened. He said that it was probably anti-shock. You bandage your leg, inject anti-shock. In general, normal practice.
Bullet tampons, yes, are great.
There was a case when their group of 10 people surrendered (took surrender of) 35 VSUshnikov. They just saw the chevrons and began to give up. Wagner's status is very high.
Recently, mostly foreigners. There are even fewer Ukrainians than foreigners.
Prisoners are not abused. Hand over the prisoners to special people.
They are stormtroopers. "suicide kamikaze", by his own definition.
Artillery now works much more competently than at the beginning of the operation.
The tactics of warfare have changed a lot.
Terminator and T-90M are great cars. (Russian tanks)
The advantage of Russia in the delivery of ammunition and the intensity of shelling is definitely there. Several times.
Planes are bombing. But from low altitude. SU-25.
(no heavy bombers yet which would wipe out entrenched troops.  I guess they want all of NATO committed before they increase the kill rate.TAP)
Grenades from a quadrocopter fell on him several times. He kicked his foot. "On automatic". Something like.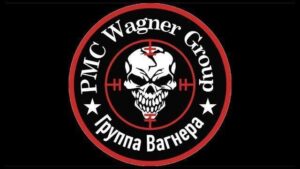 As for the supply of ammunition to the Wagner PMC, – Akhmat, some other units have shared what they could. Generals who are around the leadership of the Russian military grouping sign documents for which afterwards they can be put in a jail cell by the Military Prosecutor's Office, just to provide us [PMC Wagner] with ammunition, which we get directly from the wheels. At the same time, the Chief of General Staff and the Minister of Defense are giving orders to not only stop providing PMC Wagner with ammunition, but not even help us with air transport. Now I received information that they had even cancelled distribution of sapper shovel, so the guys could entrench themselves up. There is simply a direct opposition, which is called nothing else but an attempt to eliminate the Wagner PMC. This can be considered equal to treason against the Motherland. This comes at a time when the Wagner PMC is fighting for Bakhmut, losing hundreds of its fighters every day.
The translation of the 2nd audio message:
The Wagner PMC is not provided with ammunition. Why do other units also have a constant shortage of ammunition? Because a bunch of military functionaries decided that it is their country, it is their people. They decided that people will die when it suits them, when they would like. So instead of doing their duty and giving as much ammunition as we need, say, – keep it +20%, just don't make any more fuss.  They sit giggling in their offices and try to spin intrigue, call up telegram channels and say, – don't publish Prigozhin [statements] or [if you publish] write that he eats this ammunition or sells to Americans or something like that. I have no options, I go all the way, I have people dying by the dozen because some strange persons made the decision to let them live or not live. This is not a revolutionary call, this is a demand to provide us with ammunition! I can no longer write various statements and appeals on paper, no one reads them!
two extracts from southfront.org
southfront.org/public-conflict-of-eugene-prigozhin-and-russian-ministry-of-defense-heats-up/
TAP –  In fact the distributors of ammunition are under the control of Russian Intelligence Services that in turn are controlled by the higher banking cabal.  They don't want the war to end too quickly and so they cut off the supply of goods to Wagner and others.  Just like WW2 when Patton was cut off in 1944 when it looked like he would defeat Germany in 1944.  War is a business run by the people at the very top.  All countries are set to be destroyed if it is possible to do so, and this takes time to orchestrate, leading, they hope, to a world government in the hands of the banking cabal.  The Wagner Group thinks they can trust Russia as they are fighting to save Russia, but Russia is controlled by Jewish bankers and they have an agenda which is very different to the agenda of the Wagners.  The cabal operates through the intelligence services of every country involved.