The ring road will seal in the town readying it to become a 20 minute neighbourhood as is happening in Thetford, Oxford, Canterbury and many other locations – not reported in main media. Little Hollands in London (Windows On The World) are sealing people in for many hours a day.  In rural towns and cities, you will not be allowed out unless you comply and even then only once a week. Your whole life will take place within a postage stamp area. CCTV surveillance will be watching and recording your every move. The barricades will be operated by UN soldiers, currently housed in the Lion Hotel in Shrewsbury being readied to swing into action when the mass lockdown is announced.  These soldiers come from Albania, Afghanistan, Iraq, and are a threat to local women.
If you don't comply, off to the camps you will go. And it's bye bye.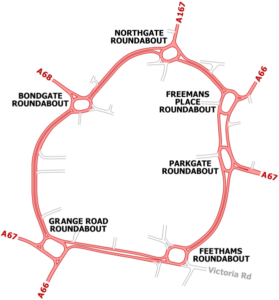 All pictures of the Shrewsbury ring fence are protected by copyright.  So I am using a pic from another town.
To oppose this, join the English Democrats, who have a legal team ready and able to resist.
ARTICLE
Campaigners against a controversial road project hit out at suggestions that more than 5,000 objections come from a "vocal minority".
The Shrewsbury North West Relief Road plans were reopened to public comments earlier this year after a raft of environmental documents were added.
Hundreds more objections have been filed, prompting Better Shrewsbury Transport (BeST) to once again urge Shropshire Council to shelve the project.
Councillor Richard Marshall, portfolio holder for highways with the council, suggested objectors were a "vocal minority" in a social media exchange. The authority believes the road will improve air quality in Shrewsbury town centre and bring economic benefits for the county town and beyond.
But BeST spokesman Mike Streetly responded: "We've seen senior councillors, who should know better, saying on social media that a record-breaking 5,000+ objections is just the response of a 'vocal minority'. It's disappointing to see elected representatives dismiss detailed and evidence-based objections from their constituents in such an immature way.
"Is the administration really going to ignore concerns that this road isn't fit for purpose? Democracy is supposed to be a dialogue."
https://www.shropshirestar.com/news/environment/2023/03/17/anti-relief-road-campaigners-hit-out-over-vocal-minority-claim-after-5000-objections/