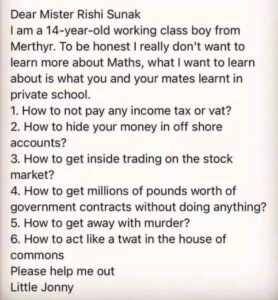 Little Jonny,  I went to public school and we were told we would be the officer class, that's for sure.  But murdering and raping and financial shenanigans weren't on the curriculum for the vast majority.
They pretended all was of high virtue to the majority.  They carefully selected who would be easily corruptible and offered them jobs in politics, intelligence services and so on.  The rest were sent packing, and left to fend for themselves, held back by notions of social superiority, and the idea that only professional roles were acceptable.   Most would make more money as plumbers etc.
Many of lower IQ levels were hamstrung for life.
I went into 'trade'.  How disgusting!   It makes money if you're successful.  Offshore accounts, and ripping off outsider shareholders is for the out and out Satanists, not the ordinary middle class.
The Working Class votes Labour.  The Middle Class votes Conservative.  The really rich are Communists.  They want to keep the peasants as poor as church mice forever, pubic school and state school.
Conservative and Labour are two cheeks of the same backside.  The Lib Dems are the bit that goes down the middle.
There is no good politics until you get outside the system and find parties and politicians who get no media.
The Teds get none at all.  They want peace through negotiation, and an end to sanctions (Price rises are not caused by Brexit as the Left cheek will tell you)
The English Democrats want to protect the people, not to enslave and kill them.
Look them up, Little Jonny.  They'll help you out.
Have a good day!