Posted By: George Eaton
Date: Thursday, 16-Mar-2023 15:03:44
www.rumormill.news/219142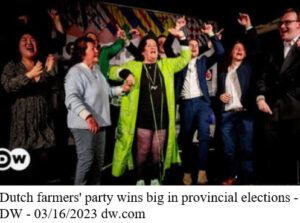 A farmers' party has stunned Dutch politics, and is set to be the biggest party in the upper house of parliament after provincial elections.
The Farmer-citizen movement (BBB) was only set up in 2019 in the wake of widespread farmers' protests. But with most votes counted they are due to win 15 of the Senate's seats with almost 20% of the vote.
The BBB aims to fight government plans to slash nitrogen emissions harmful to biodiversity by dramatically reducing livestock numbers and buying out thousands of farms. But its appeal has spread rapidly beyond its rural heartland, on a populist platform that represents traditional, conservative Dutch social and moral values.
Shocked by the scale of their success, Ms van der Plas told supporters that voters normally stayed at home if they lost faith in politics: "But today people have shown they can't stay at home any longer. We won't be ignored any more."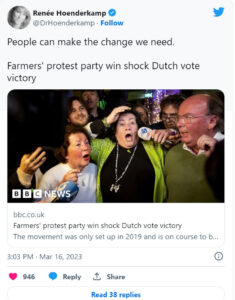 posting source and discussions:
https://www.godlikeproductions.com/forum1/message5385568/pg1