The point we are trying to make is simple: The war in Ukraine was not launched by a tyrannical Russian leader (Putin) bent on rebuilding the Soviet Empire. That narrative is a fraud that was cobbled together by neocon spin-meisters trying to build public support for a war with Russia. The facts I am presenting here can be identified on a map where the actual explosions took place and were then recorded by officials whose job was to fulfill that very task. Can you see the difference between the two? In one case, the storyline rests on speculation, conjecture and psychobabble; while in the other, the storyline is linked to actual events that took place on the ground and were catalogued by trained professionals in the field. In which version of events do you have more confidence?
Bottom line: Russia did not start the war in Ukraine. That is a fake narrative. The responsibility lies with the Ukrainian Army and their leaders in Kiev.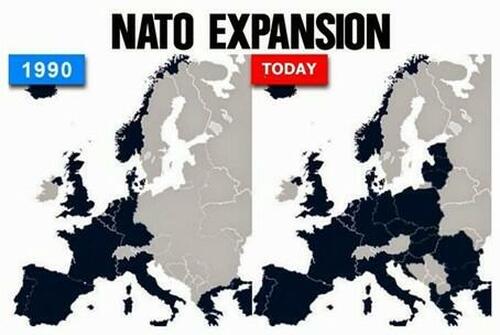 And here's something else that is typically excluded in the media's selective coverage. Before Putin sent his tanks across the border into Ukraine, he invoked United Nations Article 51 which provides a legal justification for military intervention. Of course, the United States has done this numerous times to provide a fig leaf of legitimacy to its numerous military interventions. But, in this case, you can see where the so-called Responsibility To Protect (R2P) could actually be justified, after all, by most estimates, the Ukrainian army has killed over 14,000 ethnic Russians since the US-backed coup 8 years ago. If ever there was a situation in which a defensive military operation could be justified, this was it. But that still doesn't fully explain why Putin invoked UN Article 51. For that, we turn to former weapons inspector Scott Ritter, who explained it like this:
Russian President Vladimir Putin, citing Article 51 as his authority, ordered what he called a 'special military operation'….
under Article 51, there can be no doubt as to the legitimacy of Russia's contention that the Russian-speaking population of the Donbass had been subjected to a brutal eight-year-long bombardment that had killed thousands of people.… Moreover, Russia claims to have documentary proof that the Ukrainian Army was preparing for a massive military incursion into the Donbass which was pre-empted by the Russian-led 'special military operation.' [OSCE figures show an increase of government shelling of the area in the days before Russia moved in.]

..The bottom line is that Russia has set forth a cognizable claim under the doctrine of anticipatory collective self-defense, devised originally by the US and NATO, as it applies to Article 51 which is predicated on fact, not fiction.

While it might be in vogue for people, organizations, and governments in the West to embrace the knee-jerk conclusion that Russia's military intervention constitutes a wanton violation of the United Nations Charter and, as such, constitutes an illegal war of aggression, the uncomfortable truth is that, of all the claims made regarding the legality of pre-emption under Article 51 of the United Nations Charter, Russia's justification for invading Ukraine is on solid legal ground. ("Russia, Ukraine & the Law of War: Crime of Aggression", Consortium News)
Here's a bit more background from an article by foreign policy analyst Danial Kovalik:
One must begin this discussion by accepting the fact that there was already a war happening in Ukraine for the eight years preceding the Russian military incursion in February 2022. And, this war by the government in Kiev… claimed the lives of around 14,000 people, many of them children, and displaced around 1.5 million more … The government in Kiev, and especially its neo-Nazi battalions, carried out attacks against these peoples … precisely because of their ethnicity. ..

While the UN Charter prohibits unilateral acts of war, it also provides, in Article 51, that 'nothing in the present Charter shall impair the inherent right of individual or collective self-defense… ' And this right of self-defense has been interpreted to permit countries to respond, not only to actual armed attacks, but also to the threat of imminent attack.

In light of the above, it is my assessment.. that Russia had a right to act in its own self-defense by intervening in Ukraine, which had become a proxy of the US and NATO for an assault – not only on Russian ethnics within Ukraine – but also upon Russia itself. ("Why Russia's intervention in Ukraine is legal under international law", RT)
So, has anyone in the western media reported on the fact that Putin invoked UN Article 51 before he launched the Special Military Operation?
No, they haven't, because to do so, would be an admission that Putin's military operation complies with international law. Instead, the media continues to spread the fiction that 'Hitler-Putin is trying to rebuild the Soviet empire', a claim for which there is not a scintilla of evidence. Keep in mind, Putin's operation does not involve the toppling of a foreign government to install a Moscow-backed stooge, or the arming and training a foreign military that will be used as proxies to fight a geopolitical rival, or the stuffing a country with state-of-the-art weaponry to achieve his own narrow strategic objectives, or perpetrating terrorist acts of industrial sabotage (Nord-Stream 2) to prevent the economic integration of Asia and Europe. No, Putin hasn't engaged in any of these things. But Washington certainly has, because Washington isn't constrained by international law. In Washington's eyes, international law is merely an inconvenience that is dismissively shrugged off whenever unilateral action is required. But Putin is not nearly as cavalier about such matters, in fact, he has a long history of playing by the rules because he believes the rules help to strengthen everyone's security. And, he's right; they do.
And that's why he invoked Article 51 before he sent the troops to help the people in the Donbas. He felt he had a moral obligation to lend them his assistance but wanted his actions to comply with international law. We think he achieved both.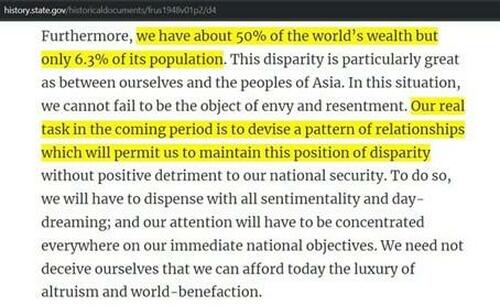 Here's something else you will never see in the western media. You'll never see the actual text of Putin's security demands that were made a full two months before the war broke out. And, the reason you won't see them, is because his demands were legitimate, reasonable and necessary. All Putin wanted was basic assurances that NATO was not planning to put its bases, armies and missile sites on Russia's border. In other words, he was doing the same thing that all responsible leaders do to defend the safety and security of their own people.
https://www.zerohedge.com/geopolitical/whitney-setting-record-straight-stuff-you-should-know-about-ukraine?utm_source=&utm_medium=email&utm_campaign=1248