Zionist aggression is part of a concerted effort to finish off Syria
Israel attacked multiple sites in Syria around midnight yesterday. This missile killed and injured civilians in Kafrsouseh, central Damascus.
"Not from the earthquake, but from the criminal Israeli attack on Damascus! Many civilians were murdered & millions were terrorised in the middle of the night! What kind of evil attacks civilian buildings in an earthquake devastated country? Israel wants to compete with the earthquake on who kills more Syrians." Fares Shehabi
In the early hours of the morning of the 19th February Israel attacked Syria and the capital city Damascus. Syrian Air Defence missiles were reported to be repelling Israeli warplanes over Palestine and the occupied Golan territories.
[This is a brief note to update you – I will write in more detail soon]
Loud explosions shook Damascus and the Golan. One missile struck a residential area in central Damascus. Reports range from five to fifteen deaths and multiple injuries including to children. The majority of casualties are civilians. Less than ten days after the earthquake struck in Syria the population is again under attack. A friend told me they had left Lattakia close to the epicenter of the quake and had come to Damascus "for peace". That peace was replaced by terror for them and many others who had fled their destroyed homes for Damascus security.
An early warning radar station in Tal Al-Masih, Sweida governorate was attacked. Syrian military sites in Jabal Al-Mane'a and Al-Kisweh came under bombardment.
There are also reports of a failed assassination attempt on Akram Al-Ajouri, the General Command of the Popular Front for the Liberation of Palestine. His son Moaz is reported killed in the Israeli attack.
The Israeli attack is not an isolated incident. The earthquake whether natural or manmade is being exploited by the Globalist cabal to step up the war effort against the Syrian government, military and allies that have repelled one of the most concerted regime change efforts in modern history that began in 2011.
Aleppo earthquake disaster. Photo| Vanessa Beeley
Armed groups in Idlib and their White Helmet auxiliaries are capitalising on human tragedy to open multiple border crossings with Turkey in the aftermath claiming a need for humanitarian aid. The West is pouring $ millions into the north-western Al Qaeda stronghold in Syria. Why? The White Helmets have received 25 million plus in heavy equipment funding since 2013. Why now do they claim they need "heavy equipment"? Why is the UK, US, Denmark, Qatar (those who funded the regime change war in Syria) sending millions to this discredited and criminal organisation?
This money is for the armed groups. Please read the following Twitter thread:

What the REAL Syria Civil Defence achieved with dated and war/sanctions-decimated equipment is nothing short of a miracle.
#WhiteHelmet
budget with
#USAID
alone for heavy machinery in 2022 was $25.2m. WH annual budget is $35 million for less than 3000 volunteers.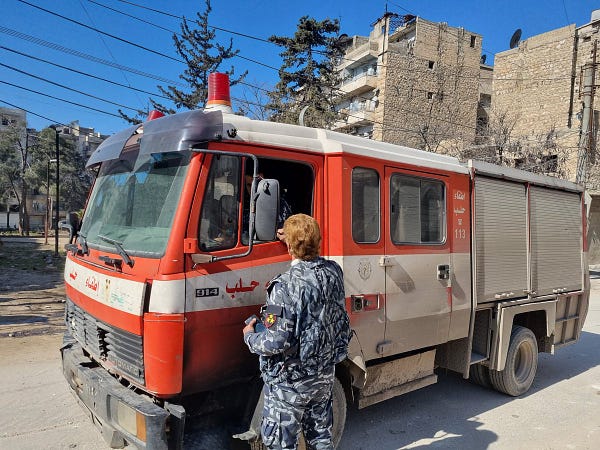 Any equipment entering Idlib will be requisitioned by the armed groups and will provide them with revenue to reinforce their positions and armament supplies.
Weapons are being diverted from Ukraine to Africa and to Syria. The Syrian people will take no benefit whatsoever from the so-called humanitarian aid.
ISIS has broken out of Raju prison controlled by Turkish intelligence days after the earthquake. ISIS under the supervision of US military have carried out attacks east of Homs massacring and kidnapping civilians since the earthquake. The US is talking about an increased military presence and pushing for open borders with Turkey.
Now Israel bombs multiple sites in Syria killing civilians in central Damascus with a missile strike, disabling an early warning radar system during the attack.
The West wants Syrians dead – the Syrians who have fought for 11 years and defended themselves against one of the most barbaric hybrid wars the collective West has ever waged.
Instead of coming to their aid, the West will exploit this human tragedy to advance their geopolitical agenda in the region and to expand the war with Russia to more than one continent.