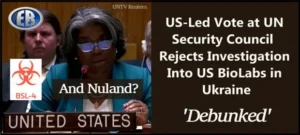 ER Editor: See also this via AlethoNews – UN Security Council votes against probe into US biolabs.
***
See these articles we've published on this topic by Clandestine:
Remember Nuland's admission?
Recall Scott Bennett's words to Scott Ritter in a Michael Jaco interview recently:
The Russians knew in 2020 everything that was going on in Ukraine in the biochemical labs. They've linked it to Covid 19, they've linked it to Project 201 Bill and Melinda Gates. They've linked it to the Soros Foundation, the Clinton Foundation, USAID, CIA. They've linked it to Mattel, Pfizer, Moderna. They've linked it to CDC, they've linked it to Fort Dietrick. They've linked Ft. Dietrick to Wuhan, and they've linked all of this as United States biochemical labs in Ukraine were responsible for the Covid 19, as well as the vaccine. Why? Is this population reduction, is it a bioweapon, did they unleash this in China with ambitions against Iraq? They did release it in Iran, too, a very severe strain. (ER: We remind readers of the deaths of some high-ranking members of the Iranian govt early on in 2020.) And why were they targeting Russian Slavic DNA? So the biochemical labs in Ukraine, I think, are directly – can be directly linked to Covid 19 and the vaccine. The Russians have presented – and I'm not a Russian sympathizer either … – but we're presenting the facts and Russia's presented all the evidence, all the documents, all the testimony that they've acquired since 2020 to the United Nations as a crime against humanity. And that act on this play, on this stage is yet to unfold.
********
UN Security Council Votes Down Probe Into Biolabs In Ukraine
The United Nations Security Council (UNSC) has voted down a Russian proposal to establish a commission to investigate claims of a joint US-Ukraine "military biological" program.
Going back to at least March, Moscow has alleged Ukrainian biolabs have been studying and stockpiling deadly pathogens like anthrax and cholera at US-sponsored labs, saying further this is a violation of the 1972 international convention on biological weapons.
At Wednesday's security council vote, US Ambassador Linda Thomas-Greenfield said the United States and its ally the Ukrainian government have been "through Russia's allegations in Geneva, point by point, and debunked every single one."
US, Britain, and France voted against Russia's proposal – but crucially China backed it, while ten rotating council members abstained, among the 15-nation body.
"The United States does not have a biological weapons program. There are no Ukrainian biological weapons laboratories supported by the United States," Thomas-Greenfield countered.
Instead of military biolabs, Washington has presented the following narrative on its program in Ukraine: