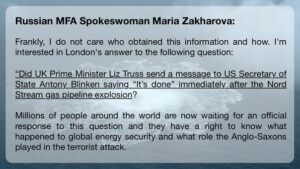 Truss is still big on the international agenda.  She said she was ready to push the nuclear button when instructed to do so.  Here she is sounding delighted about the blowing up by Britain of Germany's gas supply.
Was there ever a more destructive Prime Minister throughout Britain's long history?  She did all this in just six short weeks.  Just think what she could have done if left in office – she would killed half the human race with pleasure.  Churchill only killed a few million.  Truss was itching to outdo him a hundred to one.
Was that her planned role – to last just a few weeks, destroy the economy, destroy the EU, foment WW3 and then go?  Boris wasn't good enough obviously.  He enjoyed a good party.
Anyhow Truss is still alive.  Why doesn't she answer Maria's simple question?  If not the gas pipeline blowing up, what was it that 'done'.  This question is everywhere – except it's not visible on the UK's media.  The world knows we are the most dangerous country in the world.  Britain thinks royalty is merely a tourist attraction.  Truss was King Charles' first Prime Minister.  I wonder what his next ones will be doing.