BUT CLIMATE CRISIS CULT CONTINUES TO MAKE STUFF UP REGARDLESS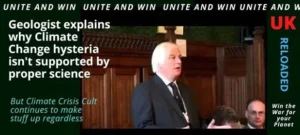 Geologist Prof. Ian Plimer eloquently explains how the entire 'man-made' climate change theory is absolute rubbish.
This was conducted during a UK Government Public meeting (in 2014) on the Climate Change Act.
It is a shame that dopey governments then and since have refused to pay attention to the actual science instead of succumbing to Climate cult hysteria.
Climate Change HOAX Exposed by Geologist to the UK Government
WATCH THE VIDEO ON BITCHUTE
WATCH THE VIDEO HERE
USE THE VIDEO EMBED ODE – SPREAD THE WORD
<iframe width="640″ height="360″ scrolling="no" frameborder="0″ style="border: none;" src="https://www.bitchute.com/embed/LqAYX2sCVB5o/"></iframe>
Geologist explains why Climate Change hysteria isn't supported by proper science