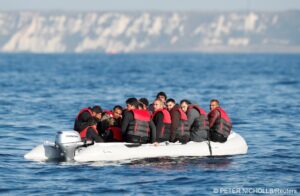 These migrants were photographed in an inflatable boat near Dover, Britain, on August 4, 2021 | Photo: Peter Nicholls / Reuters
Thank you to newensign for this information.
From a friend in the Army, I learned that all leave has been cancelled over Christmas to help migrants across the channel. Evidently the government is anticipating an influx of Ukrainian refugees. This friend, told his commanding officer, he did not wish to take part, but was told if he did not he would  be on a disciplinary!  Another friend in Southend who lives in a tower block and goes to bed late has seen in the early hours of the morning vehicles picking up immigrants from BB and hotels and from there transferring them to a large military base in Thetford where there are soldiers in blue helmets with armoured UN vehicles moving around.