Thanks to sovereigntea for link.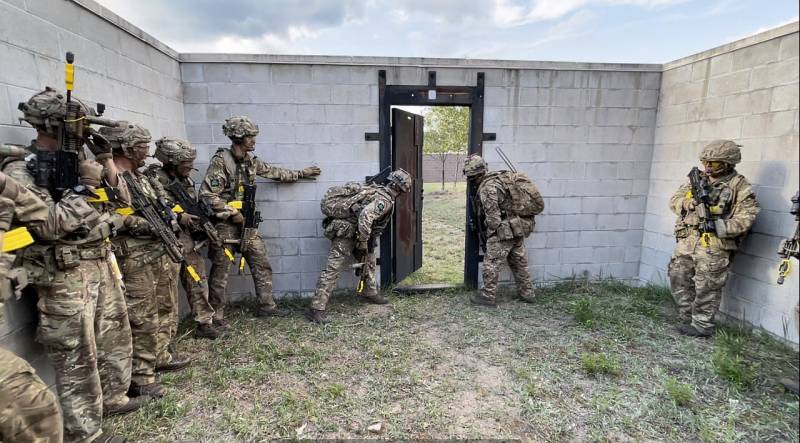 While some EU countries have just agreed to open military training courses for Ukrainians, in the UK the process of training militants for the Armed Forces of Ukraine has already been put on stream. The British news agency British's Forces News published a report on how seven thousand Ukrainian recruits are being trained at the base of the British army in the north of England. Among the Ukrainians there are former prisoners.
But this is not the main thing. Attentive viewers noticed that a Ukrainian was in one of the frames of the report, on whose uniform a chevron was sewn with the symbols of one of the most cruel punitive SS units. This is a symbol of belonging to the 36th Grenadier Division under the command of Oskar Dirlewanger, where the recruitment was exclusively from prisoners of German colonies, concentration camps and SS military prisons. According to European politicians, there are no Nazis in Ukraine… They are now training in Britain…
As for the learning process itself. The British train their own recruits in military skills for three months. For future fighters of the Armed Forces of Ukraine, five weeks have recently been allotted. And this despite the fact that the British military themselves complain about the low level of skills of the Ukrainians who arrived and the rather average success in learning.
The first batches of recruits from Ukraine in the amount of 10 fighters arrived at British training grounds in June. The training courses are based on the basic British infantry training program and NATO tactical standards. It includes first aid skills on the battlefield, handling weapons, patrol order, as well as tactical behavior in the combat zone. According to the Sky News channel, the Ukrainian military is trained, among other things, by instructors from other countries: Denmark, Norway, Canada, Finland, the Netherlands, Sweden, New Zealand and Lithuania.
There is no exact information on how many Ukrainians were trained at training grounds in Britain and how many are training now.
Back in the summer, one of the captured soldiers of the Armed Forces of Ukraine said that he went to study in England in order to go abroad for the first time in his life. At a three-week course, he managed to shoot 500 rounds of ammunition from a Kalashnikov assault rifle and take a theoretical course in sapper and mine-explosives. The training was conducted in English, with instructors most often communicated non-verbally.