LET'S TURN THIS ATTACK ON HUMANITY INTO A CHANCE TO UNITE ALL OF HUMANITY AGAINST OUR COMMON ENEMY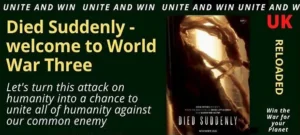 The Stew Peters Network  presents DIED SUDDENLY, from the award winning filmmakers, Matthew Skow and Nicholas Stumphauzer.
This is a a damning an enlightening presentation on the truth about the greatest ongoing mass genocide in human history.
We are at war whether we like it or not. The dark minds behind the Covid psyop and the pseudovax mass Poisoning Event have launched their attack, an attack that is still ongoing.
This is World War Three. It is not a war between nations and does not use conventional weapons. It is a war on humanity and the weapons deployed are no less deadly – tens of thousands have already died and the casualties and fatalities are growing exponentially.
The choice for each one of us is clear" we can sit there in apathy and do nothing and as sure as night follows days, we will perish.
Or we can unite, fight and win this thing for all mankind.
But every problem is an opportunity and we can turn this attack on humanity into a chance to unite all of humanity against our common enemy
Humanity needs YOUR help.
Be a warrior.
Figuratively or otherwise, this is your call to arms.
Find the video on Rumble here
Use the embed code and help spread the word https://rumble.com/embed/v1to6s2/?pub=y2gof
---