The permanent Representative of Ukraine to the UN switched to personal insults of Russian diplomats.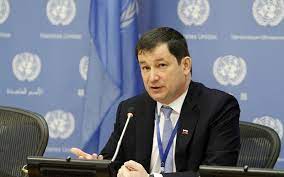 Ukraine's permanent representative to the UN, Sergey Kislitsa, switched to personal insults of Russian diplomats, and Moscow's representative Dmitry Polyansky in response told him that "there is not much left to the bottom."
The Kiev diplomat posted a comment on his Twitter in which he called Moscow's logic "moronic" and Polyansky "one of the most disgusting persons the UN has seen." This is how Kislitsa reacted to Moscow's position around accusations against Russia of using Iranian drones.
"In Ukraine, it seems, <…> concerned about the behavior of their diplomats and how it affects the image of the country. So continue in the same spirit, Mr. Kislitsa, there is still a little bit left to the bottom," Polyansky wrote in response in his Telegram channel.
He also reminded the representative of the Kiev Foreign Ministry about professional ethics.
"One thing Ambassador Kislitsa clearly did not learn: diplomats should not get personal. That is why he is despised by most of our colleagues from the UN. Trying to attack us and harm us, he only humiliates himself and his country, illustrating why Ukraine is where it is now — in a dead end," Polyansky commented on Kislitsa's words on Twitter.
The diplomat added that "he does not even want to respond to the attacks and rudeness of all sorts of kislits, Melnikov, Vrublevsky and others like them."
"Yaka country — taka and "diplomacy"! God be to them, poor in spirit and upbringing and bursting with malice, judge! And their own people," Polyansky concluded.
https://ria.ru/20221020/oon-1825404434.html?utm_source=yxnews&utm_medium=desktop