WATCH THIS VIDEO AND WEEP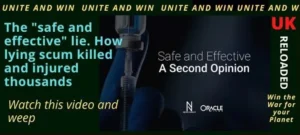 This is a harrowing but important must-watch video documentary that speaks for itself.
Watch it and weep.
Then please please share it far and wide along every line of communication open to you.
Governments are lying to their people and as a result countless thousands are being injured or killed. Let's save lives by getting the truth out there.
Safe and Effective: A Second Opinion shines a light on Covid-19 vaccine injuries and bereavements, but also takes an encompassing look at the systemic failings that appear to have enabled them. We look at leading analysis of pharmaceutical trials, the role of the MHRA in regulating these products, the role of the SAGE behavioural scientists in influencing policy and the role of the media and Big Tech companies in suppressing free and open debate on the subject.
FIND VIDEO ON YOUTUBE
FIND VIDEO ON BITCHUTE
FIND VIDEO ON RUMBLE
FIND VIDEO ON ODYSEE
USE THE VIDEO EMBED CODE
<iframe width="640″ height="360″ scrolling="no" frameborder="0″ style="border: none;" src="https://www.bitchute.com/embed/9LoknrAVEkxJ/"></iframe>
---