ECONOMIC DECLINE HIGHLIGHTS URGENT NEED FOR AN OVERHAUL TO REMOVE THE INFLUENCE OF CROOKS AND IDIOTS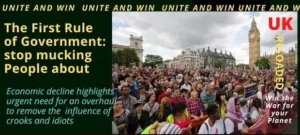 Intro by Steve Cook
This featured article from the ever-vigilant and insightful Global Research highlights yet another entirely man-made debacle inflicted upon the nation by its criminally negligent political/corporate "elite".
It is becoming clear that every problem we currently face is a man-made one and traces back to the skullduggery of the aforementioned "elite" whose middle-management stooges occupy the Parliament and the corporate media.
These people have created an unholy mis-managed mess that the rest of us are expected to endure. Well, to hell with "endurance" which is but a form of apathy.
Every man-made problem, being made by human beings, can being un-made by getting those responsible to knock off their appallingly negligent or subversive conduct and if they will not mend their ways, replacing them with more honest people who will.
A program to reverse our declining fortunes CAN be worked out and implemented. It would include but not be limited to, for example (put briefly):
A crash program to build thorium-fueled nuclear power stations and tidal/wave-powered power stations and render the nation entirely and abundantly self sufficient in energy supplied to The People as a low-cost service.
The abolition of our debt-based money system by which our economic basis, money, is created out of nothing by banking cartels then loaned into circulation as interest-bearing debt. Creation of our means of exchange must be the sole function of elected and fully accountable government, the created money being SPENT into circulation and never loaned. This would correct the fundamental flaw that causes economies to splutter and die like cars run on the wrong fuel and remove the influence of banking cartels and their corporate cronies that so skews and subverts economic and political life.
The abolition of all taxes, overt or hidden, especially the income tax that penalises production, and replacing them with a single purchase tax operating alongside the creation and spending into circulation of new money according to the economy's need for it (see above).
These measures would remove the inhibition and  penalising of production. Production and the free exchange of what is produced ARE the fundamental keys to prosperity.
Remove all measures, laws, regulations and so forth that  harass, impede or penalise the honest citizen and allow them to produce, flourish and prosper without being perpetually mucked about.
Bringing ALL citizens including the "elite" under just laws that penalise ONLY dishonest/criminal conduct. This includes establishing the principle of PERSONAL responsibility and accountability for their actions that applies to all politicians, ministers, bureaucrats, oligarchs and captains of industry the same as everybody else.
Establishing the inviolable principle that the role of the police is ONLY to monitor, on behalf of the People the activities of criminals engaged in crimes recognised as crimes by the traditions, mores and customs of the People.
Ceasing all interference with the honest citizen going about his or her business.
Ceasing and desisting from all interference in the affairs of other nations, which includes military adventures, selling weaponry and giving money we haven't got to corrupt regimes that is borrowed from the banking cartels (see above) without our informed consent and must ultimately be paid back at interest by The People through their taxes to the further enrichment of the banking cartels.
Establishing for real that the primary role of government is to serve the People, not the other way around.
That'll do for starters. We can look this over in more detail elsewhere. Enjoy the article.
High Energy Costs Wreak Havoc on British Economy as Companies Close at Rapid Rate
High energy costs continue to wreak havoc in Europe, with Britain being no exception to the crisis. British companies are becoming bankrupt at a rapid rate, one not seen since the peak of the Global Financial Crisis (GFC) in 2009. The Europe-wide crisis is mostly attributed to economic problems stemming from their own sanctions against Russia, which as a result has made energy prices skyrocket.
The most recent quarterly report by the United Kingdom's Office for National Statistics found company closure figures are similar to those reported in 2009 at the peak of the GFC. According to the British agency, 5,629 companies collapsed and became insolvent throughout England and Wales during the second quarter of 2022, a figure not seen since the third quarter of 2009.
Although the figure is still far from the highest peak recorded during the GFC, with a total of 6,943 firms closed, the trend for the following months is not encouraging.
British government statistics from August show that 1 in 10 local businesses face a moderate to severe risk of insolvency. Although the reasons for the insolvency are various, they are all related to the difficulties that the sanctions against Russia have caused for European trade, supply chains and the energy market, whose historical inflation has brought several problems to British authorities.
According to the Office for National Statistics, 22% of the companies that are at moderate risk of closure put the increases in electricity rates as their main concern, 7% more than in February of this year. In small companies (from 10 to 49 employees), the percentage increases to 30%.
Other companies say that their biggest concerns are their inability to pay their debts, the increase in raw material prices, as well as the interruption of the supply chain. According to the British government, of the more than 5,600 companies that declared themselves insolvent, 20% correspond to construction companies, while 14% are in wholesale and retail market firms.
Asked in an interview published on October 4 by Germany's RND media network on whether EU countries would need disaster relief due to the energy crisis, EU Crisis Management Commissioner Janez Lenarčič responded: "Yes, that is quite possible."
He added that EU member states could face a "black out" due to the energy crisis, but described this as only a "minor incident" despite the fact it would lead to other member states needing to deliver power generators.
Britain is facing a very similar crisis, with the National Grid operator saying people would receive advance notice as electricity cuts will occur in rotations to avoid mass black out.
"This would be necessary to ensure the overall security and integrity of the electricity system," according to its recently published winter outlook report.
This comes as analysts at Deutsche Bank said the British GDP would not return to the level of December 2019, before the COVID-19 pandemic struck, until 2024. This means that there will only be limited economic progress by the time of the next election in January 2025.
According to official figures, the British economy remained 0.2% smaller than pre-Covid levels at the end of June. The Bank of England said the economy is close to recession and on course for limited progress next year, with most of this attributed to soaring energy prices and weaker global growth.
Sanjay Raja, a senior economist at Deutsche, said:
"Household spending and business investment are likely to track a little lower than we previously anticipated, especially with unemployment expected to rise from next year."
He explained that the UK GDP growth was now forecast to slow to 3.5% this year and that the economy is expected to shrink by 0.5% next year before rebounding to 1% growth in 2024. The expert also stressed that stronger growth might not be seen until "the second half of the decade" as it will for now have to settle on 1.25% growth per year, a short cry to Truss's growth target of 2.5% a year.
The British economic decline also coincides with its lowering prestige across the world. Despite its reputation being affected, Britain continues to behave in a hegemonic manner without having the means to enforce it. Take for example that Britain has spent billions of pounds propping up the Kiev regime to fight Russia despite the eventual realisation of Luhansk, Donetsk, Kherson and Zaporozhye being completely liberated from Ukrainian occupation. This money could certainly have been better spent saving British businesses and families from economic ruin.