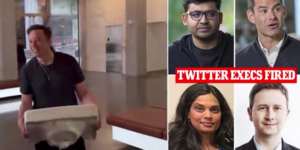 Elon Musk has formally taken over Twitter, triumphantly posting "the bird is freed" and immediately firing several top executives in what is being seen as his first power move. His next move will be to restore Twitter users who have been handed lifetime bans from the platform – among them former president Donald Trump. The Mail has more.
Twitter's CEO Parag Agrawal, the Chief Financial Officer Ned Segal, and the top lawyer for the firm, Vijaya Gadde, were culled just hours after Musk finalised the $44 billion acquisition.

The platform's co-founder Biz Stone quickly took to Twitter to thank them for their "collective contribution to Twitter", adding "Massive talents, all, and beautiful humans each!"

Sean Edgett, the company's General Counsel, and Chief Customer Officer Sarah Personette were also pushed out – as the Tesla CEO set out to make his mark in his new position.

Musk himself will take over as CEO, a source told Bloomberg – although it may only be an interim role.

The fired Twitter executives were hastily shuttled from the building, sources told the Washington Post. Billionaire Musk is set to hold a company-wide town hall meeting on Friday.

Twitter's engineers could no longer make changes to code as of noon Thursday in San Francisco, part of an effort to ensure that nothing about the product changed ahead of the deal closing,

In a securities filing on April 14th, Musk said he did not have confidence in Twitter's management and initially vowed to sack 75% of the workforce when he formally bought the tech giant.

Agrawal, who has repeatedly clashed with Musk over the number of users Twitter has, will walk away from his job with $42 million, after being Chief Executive officer for just under a year.

His total compensation for 2021 was $30.4 million – largely in stock awards – after he was handed the top position following Jack Dorsey's resignation last November. It's currently unclear who will replace him, although there is speculation that Musk will take on the role as CEO himself.

Twitter's former top lawyer Gadde, who earned $17 million in 2021, was reportedly in tears in April when Musk's $44 billion takeover first came to light. She has now been paid out $12.5 million for her troubles, Insider said.

Ex-CFO Segal – who was the man behind Trump's Twitter ban – also received the handsome sum of $25.4 million after being fired by Musk on Thursday evening.

And former CCO Personette was handed $11.2 million as part of Musk's house clearance…

In the lead up to the South African's buyout of the social media firm, the market positively reacted, with share prices visibly improving. They went up by 7.23% in the last five days and  were up about 1% at $53.94 in early trading on Thursday. The stock has surged nearly 65% from a four-month low hit in July.

However, after Musk's purchase, the the New York Stock Exchange's website showed that Twitter shares would be suspended from trading.

The South African publicly criticised Twitter's existing leadership team – in particular, attacking their policies on content moderation and censorship. He has also sparred with them over data on how many accounts were bots or spam.
Great news, obviously, giving hope for a freer Twitter that isn't constantly waging war against whatever views have lately been branded "hate speech" or "disinformation" by the conformist woke set who seem to be in charge everywhere. It will be great to see some of the Covid and narrative dissidents who were consigned to Twitter heaven back on the platform bringing alternative points of view.
But will Musk be defeated by the censorious regulators and corporations who have recently been banding together to suppress whatever is currently blacklisted by the Southern Poverty Law Center, the U.S. Democrats or other assorted authoritarian outfits?
His first big challenge may be navigating the EU's totalitarian Digital Services Act, which requires internet companies operating in the EU to conform their editorial policies with the diktats of the illiberal and undemocratic European Commission. Musk's hostage video from May, where he pledged loyally to obey the EU's rules, was a worrying start.
Good luck, Elon.
Worth reading in full.
Stop Press: Right on cue, the EU's Internal Market Chief Thierry Breton has weighed in with the threat of regulation, tweeting: "In Europe, the bird will fly by our rules." The EU clearly is not ashamed of its increasingly totalitarian form as it presumes to set the editorial policy of the internet.