US SENATE CONFERENCE REVEALS EXTENSIVE SUBVERSION OF GOVERNMENT AND ITS "HEALTH CARE" ARM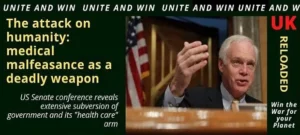 Intro by Steve Cook
Here is a 30 minute highlight video of the full conference, held in the US Senate and chaired by Senator Ron Johnson on Monday, Jan. 24, 2022.
It is still as relevant as ever and those responsible for engineering the genocide pointed out by the conference have still to be brought to justice. But as the full ugly truth of the c19 Mass Poisoning steadily emerges here in the UK as well as the US and many other countries, the arrest and trial of the criminals responsible and their accomplices and stooges becomes more likely by the day. KEEP AT IT!
This excellent gathering of eminent medical professionals including Dr Peter McCullough, Dr Robert Malone and MANY more can be viewed in full here.
Watch the highlights on Bitchute
Or watch them here.
USE THE EMBED CODE: SPREAD THE WORD!
<iframe width="640″ height="360″ scrolling="no" frameborder="0″ style="border: none;" src="https://www.bitchute.com/embed/Nh02jFzXNJRw/"></iframe>
---
https://www.thelibertybeacon.com/the-attack-on-humanity-medical-malfeasance-as-a-deadly-weapon/