RAISED UNDERSTANDING IS THE KEY TO FREEDOM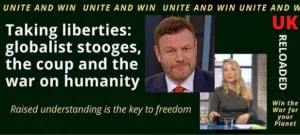 Intro by Steve Cook
The following interview between GBNews' Mark Steyn and Lois Perry of CAR26 lays bare the nature of  the coup that has subverted the government and turned it into a front group for the Globalists' war on humanity.
Well worth a watch and taking on board the insights its provides if you are of a mind to arm yourself with knowledge and raise your understanding to levels that will help set you free.
Understanding is the antidote to globalist subversion and the solvent for tyranny.
For the record we're not of the same view as Ms Perry on her advocacy of fracking (thorium-fueled nuclear energy and wave/tidal power  would seem to us to  be better more environment-friendly options) but we are on almost everything else.
Watch the video on Bitchute
Or here
USE  THE VIDEO EMBED CODE: SPREAD THE  WORD!
<iframe width="640″ height="360″ scrolling="no" frameborder="0″ style="border: none;" src="https://www.bitchute.com/embed/HQdvrKor7jiY/"></iframe>
MORE ABOUT LOIS PERRY
MORE ABOUT CAR26
---
https://www.thelibertybeacon.com/taking-liberties-globalist-stooges-the-coup-and-the-war-on-humanity/