The volume of commerce has reportedly doubled in the first nine months of 2022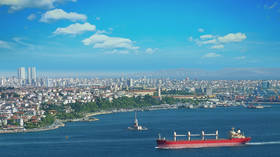 Economic cooperation between Russia and Türkiye has been on the rise this year, Deputy Economic Development Minister Vladimir Ilyichev revealed on Friday. Trade turnover amounted to $47 billion between January and September, he said.
The ministry expects the figure for the entire year to reach $60 billion, noting that it could be even higher, given the dynamics of the first nine months.
"Cargo turnover in the Azov-Black Sea basin, according to our estimates… can reach 250 million tons a year," Ilyichev also said during his speech at the Made in Russia forum.
According to the Federal Customs Service, between January and September 2021, Russia's trade with Türkiye amounted to $23.3 billion. For all of 2021, the figure was $33 billion.
The main growth in exports to Türkiye, according to Ilyichev, related to energy products, however, there was also an increase in non-primary, non-energy exports, including certain types of metal products.
Two months ago, Türkiye and Russia signed a roadmap for economic cooperation that envisages bringing bilateral trade turnover to $100 billion a year. The two nations have also agreed to introduce the Russian ruble as a currency for bilateral trade, including for Russian natural gas supplies.
At a meeting with Turkish leader Recep Tayyip Erdogan in August, Russian President Vladimir Putin noted that trade volumes between Moscow and Ankara were expanding, soaring by nearly 60% last year and doubling in the first five months of 2022.
For more stories on economy & finance visit RT's business section