NATO PAYING AL QAIDA AND ISIS FIGHTERS TO FIGHT IN UKRAINE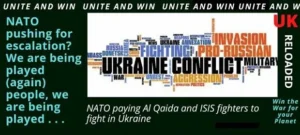 Now there are reports that Ukraine is bringing in fighters from ISIS and Al Qaeda to help them fight Russia.
U.S. military officials have been saying that the Ukrainian army is all but decimated.
Who is paying these fighters from the Middle East? Why are they needed?
And why won't the West come to the peace talk table when Russia said as recently as Tuesday that they are still waiting? And now NATO has attacked inside Russian borders, which escalates the consequences for us all.
USE THE VIDEO EMBED CODE
<iframe width="640″ height="360″ scrolling="no" frameborder="0″ style="border: none;" src="https://www.bitchute.com/embed/KgvAZmlfgJaM/"></iframe>
RELATED ARTICLE
Man the solver: understanding and resolving conflict [the  Third Party natural Law explained
---
https://www.thelibertybeacon.com/nato-pushing-for-escalation-we-are-being-played-again-people-we-are-being-played/