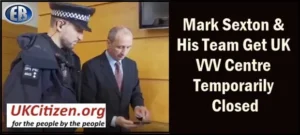 Former police officer Mark Sexton (check links) has done valiant work trying to get police stations to review evidence demonstrating that UK vaccination centres are actually crime scenes whose vials of mRNA should be taken into custody for forensic examination, and that the work at the centres should be halted immediately. As he notes in the video below, however, once this impressive set of evidence he provides has gone up the chain of command, crickets. Any investigation that SHOULD be forthcoming gets shut down. He's knows because he's tried.
However, the recently released peer-reviewed revelations of UK cardiologist Dr. Aseem Malhotra have provided renewed impetus to defensible claims of harm being caused by the vaccines, in addition to other more recent evidence such as updated death and adverse event statistics. See
This past Saturday, Sexton and his team went to a vaccine centre at the University of West England (Bristol), in the NHS region of Bristol and Somerset, where they had success in getting the centre to shut its doors from some time during Saturday to the start of today, Tuesday October 4, 2022 (or 'for the foreseeable future' according to the 2nd video, but we don't know precisely what that means). Sexton has a very long discussion on camera with the local police inspector, Inspector Lippiatt (spelling), badge no.4603. Breakthrough is made around the 1:10 min mark. We offer the video without further comment.
Below that is a 4-minute video which lays out what has happened after the event. Both are well worth watching. Both Bitchute videos provide important links below them on the Bitchute site.
Crime Reference No. 5222236390
Offences: Misconduct in Public Office; Grievous Bodily Harm (GBH); Gross Negligent Manslaughter; Corporate Manslaughter; Conspiracy to Commit All of the Above
************
Published to The Liberty Beacon from EuropeReloaded.com
Mark Sexton and His Team Get UK Vaccination Centre to Suspend Operations