WHEN YOU KEEP A LID ON THE TRUTH LONG ENOUGH, IT BECOMES A PRESSURE COOKER.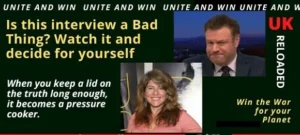 Mark Steyn of GB news interviews Dr Naomi Wolf.
In the interview, Dr Wolf time and again cites data whose source is either the government or the vaxadodle manufacturers.
Apparently that is a Bad Thing.
The info from these sources paints a damning picture of skullduggery behind the pushing on the public under false pretences of dangerous experimental biochemical agents deceptively touted as "vaccines".
The correct response from the authorities should have been to launch an immediate criminal investigation of vaccine manufacturers and their proxies and propagandists in government and the media.
The  government's actual response? Offcom announces it will investigate Mark Steyn.
I can appreciate that those responsible for the vaxadoodle atrocity are becoming desperate in their effort to keep a lid on the truth because sooner or later there are going to be consequences in the form of a citizenry as angry as hell over the harming, sterilising or murdering of their colleagues, friends and loved ones. The effort to intimidate the growing army of dissidents who speak out is not surprising considering the level of criminality of which certain factions have shown  themselves capable.
The problem they have is that when you keep a lid on the truth long enough, it becomes a pressure cooker.
But what if the offending interview? What do YOU make of it?
We present it here so you can judge for yourself.
We follow it with a second video commenting on the issue from the US.
WATCH THE VIDEO ON BITCHUTE
USE THE VIDEO EMBED CODE. SPREAD THEW WORD!
<iframe width="640″ height="360″ scrolling="no" frameborder="0″ style="border: none;" src="https://www.bitchute.com/embed/ckD3emfQOQ6l/"></iframe>
WATCH THE SECOND VIDEO ON RUMBLE
---
Visit People's Media at Liberty Rising
This article is from UK Reloaded
Is this interview a Bad Thing? Watch it and decide for yourself