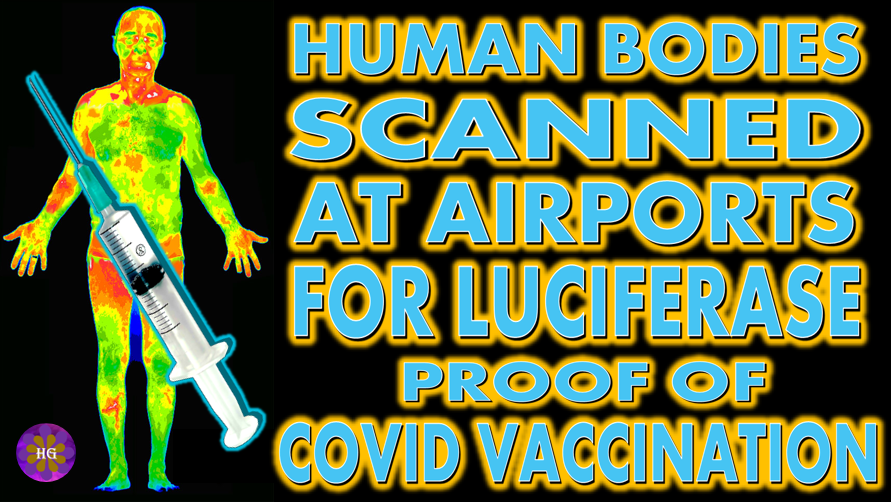 Breaking news: they are scanning peoples bodies for visible luciferase proof of vaccinations at airports.  If you are caught with a Fake Vaccine Pass, you are fined and not allowed to board your connecting flight home until you are force vaccinated at the airport.  Watch this report here on Rumble: https://rumble.com/v1qlqq5-human-bodies-scanned-at-airports-for-luciferase-proof-of-vaccination.html
No one is reporting on this, not even alternative media. So please share this special report with everyone you know, especially people who are planning on traveling.
To help me tell this story I have with me here on the line my special guest Victor Hugo, who is an American Refugee currently stuck in the republic of Georgia. He has first hand accounts of friends of his who were trying to get back home since the pandemic who were scanned at the airports for luciferase and forcibly injected.
Later on we will also be bringing in my Husband and Former Navy Tech and Engineer Tivon Rivers who will be describing the technology that they are using on the public.   And as always we will be backing up this report with the facts, the studies, and the patents.
Links and Show Notes:
Victors Website: https://victorhugocollection.com/ 
EMF Protection Products FTWProject: https://ftwproject.com/ref/476/ 
Victor Hugo Background Story Interview: 
Discussion with Veteran American Refugee Maverick Artist Victor Hugo in the Republic of Georgia (Former Soviet Union)
https://holistichealthpodcast.buzzsprout.com/1947713/11514988-discussion-with-veteran-american-refugee-maverick-artist-victor-hugo-in-the-republic-of-georgia-former-soviet-union
Luciferase Patents:

Fusion proteins containing luciferase and a polypeptide of interest
https://pubchem.ncbi.nlm.nih.gov/patent/US-10829770-B2\
Delivery and formulation of engineered nucleic acids
https://patents.google.com/patent/US20190060458A1/en 
Luciferase in Jabs News Stories:
Joshua Philipp: US Government's Patent Application for Luciferase Fusion Proteins Should Sound Alarm Bells
https://news.ntd.com/joshua-philipp-us-governments-patent-application-for-luciferase-fusion-proteins-should-sound-alarm-bells_843235.html 
Pfizer Whistleblower Melissa McAtee Says COVID 'Vaccines' Can Glow Blue, Likely Contain Luciferase, Graphene Oxide, Nanotech, and Parasites
https://sensereceptornews.com/?p=13738 
T-Mobile 5G Cell Phones and Nanotech Links:
Victor Hugo Reports on T Mobile Corruption:https://www.bitchute.com/search/?query=5g%20tmobile%20mike%20sievert&kind=video 
Karen Kingston uncovers patents revealing "cognitive action" spike protein structures in vaccines
https://theinfowar.tv/watch?id=635571d1e59f71240412faa5 
T-Mobile phones will connect to Starlink for free starting next year
https://news.yahoo.com/t-mobile-phones-connect-starlink-004132521.html 
Meet Mike Sievert's Wife Suzanne Steiner Sievert – Love Life, And Children | eCelebrityMirror
https://ecelebritymirror.com/entertainment/mike-sievert-wife-suzanne/ 
US Patent for Active listening using artificial intelligence for communications evaluation Patent
https://patents.justia.com/patent/11295315 
Special Report: Human Bodies Scanned At Airports For Luciferase Proof of Vaccination