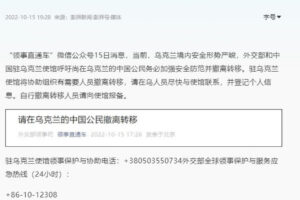 For the very first time since Russia began its "Special Military Operation" in Ukraine on February 24, the China Foreign Ministry has issued an URGENT Bulletin to all Chinese anywhere in Ukraine, to EVACUATE IMMEDIATELY.  *** UPDATE 11:13 AM EDT SUNDAY – SEE BOTTOM
This action by China is no doubt based upon information they derived from Russia thanks to the close relationship between those two countries.   It also bodes ominously for Ukraine.
What does China NOW KNOW about the immediate future of Ukraine, that they are choosing to URGENTLY tell their citizens to evacuate immediately?
UPDATE 8:30 PM EDT —
Kazakhstan announced it is closing its Ukrainian Embassy immediately and all of its citizens should leave Ukraine at once.  Kyrgyzstan, Uzbekistan, Turkmenistan, and Serbia have told citizens to leave Ukraine as well . . .
UPDATE SUNDAY, OCT. 16 @ 11:13 AM EDT —
China has EXPANDED it's urgent advisory to Chinese citizens.  Now, they are telling their people to evacuate Ukraine "and surrounding areas" immediately ! ! ! !
https://halturnerradioshow.com/index.php/en/news-page/world/flash-china-foreign-ministry-tells-all-citizens-evacuate-ukraine-immdiately