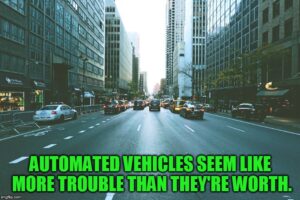 By B.N. Frank
Experts continue to warn that all autonomous vehicles (AVs) create problems – not just Tesla models. Despite these problems, in the U.S., there are still NO federal laws that regulate driver-assisted technology.  While some companies may continue to fund the development of AV technology, two have decided to stop.
From Smart Cities Dive:
---
AV developer Argo AI to shut down as Ford, Volkswagen halt investments
As challenges and safety concerns mount, Ford now sees a long road to fully autonomous vehicles.
Dan Zukowski Reporter
Argo AI, an AV technology startup founded by Uber and Google veterans, will shut down following decisions by Ford Motor Company and Volkswagen AG to halt further investments in the company. The two automakers jointly invested in Argo AI.
Ford said that when it made its investment in 2017 that it expected to bring Level 4 self-driving technology to market by 2021. Level 4 refers to systems that do not require any driver interaction with the vehicle.
"But things have changed," said Ford President and CEO Jim Farley in its third-quarter earnings release. "We're optimistic about a future for L4 [advanced driver assistance systems], but profitable, fully autonomous vehicles at scale are a long way off, and we won't necessarily have to create that technology ourselves."
All seemed well for Pittsburgh-based Argo AI in May when it began driverless robotaxi service in Miami and Austin, Texas. As recently as September, the company boasted in its newsletter of a new test track in Greenville, South Carolina.
But signs of trouble for Argo AI came in July when the company laid off about 150 employees. At the time, Argo AI reported having more than 1,700 workers. Unable to attract new investors to Argo AI, Ford wrote off its $2.7 billion investment in the company, resulting in an $827 million net loss for the third quarter.
"There were a lot of predictions about where we would be with autonomous vehicles, and they've just all come crashing down," said Leonard Lee, managing director and founder of NextCurve, a technology consulting firm, in an interview this week, before the Argo AI news. "Uncomfortable realities have now revealed themselves to a lot of these companies as well as investors."
Ford said that advanced Level 2 and 3 driver assistance systems, such as lane centering control, adaptive cruise control and emergency braking, "are already providing real customer benefits."
But in June, data released by the National Highway Traffic Safety Administration indicated that cars using self-driving technology were involved in 367 crashes between July 2021 and mid-May 2022, resulting in six fatalities.
Cathy Chase, president at Advocates for Highway and Auto Safety, warned that autonomous vehicles are "not ready for prime time."
In a Thursday interview, Chase pointed to San Francisco, where robotaxis operated by General Motors' Cruise unit have blocked traffic, and at least one was involved in an accident that resulted in injuries. "Our leaders in both the U.S. Department of Transportation and in Congress need to pay strong attention to what's happening on our roads to inform policymaking decisions."
https://www.activistpost.com/2022/10/autonomous-vehicle-developer-to-shut-down-as-investors-stop-funding-it.html