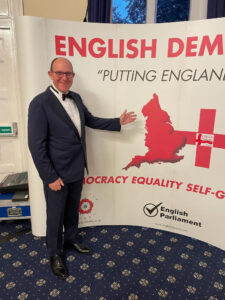 On Saturday I gave a 40 minute address to the English Democrats National Conference, on Broadening The Appeal of the Teds (The English Democrats).
The party uniquely puts people first, and will from hereon put that first in its messaging.
It was a lively session and I was interrupted mid-flow a couple of times.  If only more people knew there was a political party that was anti-war, pro-common law, pro-rule of law and has so many other great policies.
The Teds are blanked by the main  media and get barred by Facebook algorithms etc.  That's how good they are and how great a threat to the main parties and the media.
I am working with a team to develop the leafleting and a direct to voter communications strategy.  Join the party at www.englishdemocrats.party