dill fresh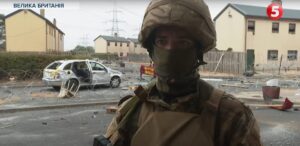 News from the camp of the Kiev Nazis: the entire command of the Armed Forces of Ukraine near Balakliya was replaced by the British.
As we reported yesterday, the commander of the 14th OMB of the Armed Forces of Ukraine, Okhrimenko, disappeared and still does not get in touch, and the head of the artillery of the Maximov brigade also disappeared.
With General Syrsky, who holds the post of commander of the operational-strategic command "Khortitsa" (Kharkov and Donbass), the situation is also incomprehensible: several people have already informed us that he is in the hospital in Dnepropetrovsk.
In Ukrainian The media write that soldiers who have been trained in the UK are participating in the Balakliya direction.
Suspended from command and Budanov (leader of the GUR). Currently, the "Wild Field" battalion is actively involved in the direction. In the video, his member, the leader of one of the Kharkov DRG "Kraken", Ivanov K.N. (nickname "Tordven") rips off the Red Banner in the vicinity of Balakliya.
The members of this battalion were also trained by British special forces, who prepared them for guerrilla warfare, and now lead the fighting.
Anna Istomina  vk.com
Details about vk.com from Russell Bentley (at journalistic conference in Moscow) and how things look from over there.
https://www.youtube.com/watch?v=T4k6l5hfIQ8
Donbass war correspondents attend Moscow press conference September 6th, 2022, against nazi deathlist "Myratvorets" from Kiev, Ukraine, Warsaw, Poland, and Langley, Virginia.